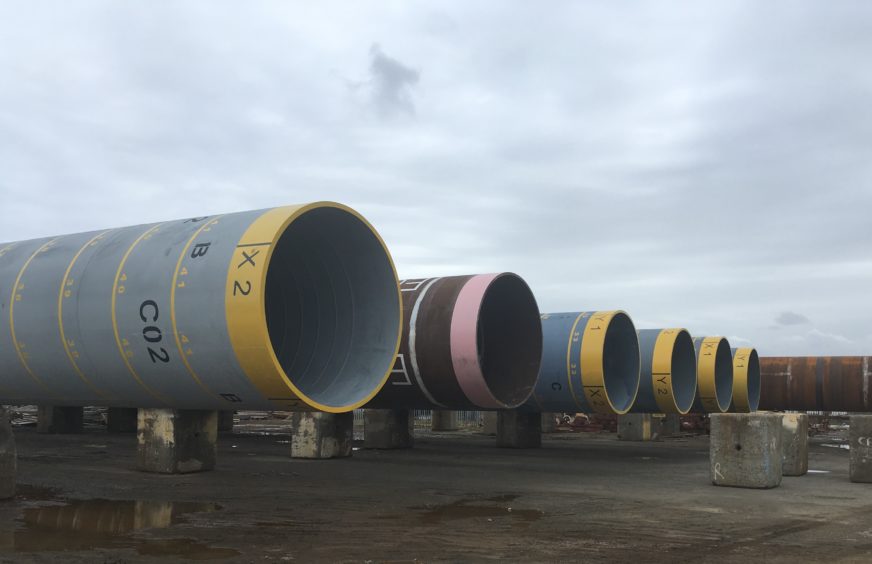 Scores of steel cylinders destined for a huge Moray Firth wind farm have been left lying in yards after work was stopped on the project earlier this month.
No pin piling work has taken place at the Moray East offshore wind farm since early September because of a shipping problem involving Burntisland Fabrication (BiFab) and the project contractor, Deme Offshore.
It is understood a large number of completed pin piles are now sitting at BiFab's Arnish and Methil yards waiting to be moved to the site.
The MV Normand vessel brought in to service the project by the contractor has not undertaken any work in almost a month.
Deme Offshore was brought in by Moray East to manage the wind farm construction last year.
Earlier this month, on September 10, the Belgian company said the pin pilling work had reached the half-way point – but operations reports show no work has taken place since September 2.
The firm has failed to respond to approaches for comment, or said when the work is likely to start again.
Of the total 309 pin piles required for the project, 156 have been installed.
These 156 belong to German company EEW, meaning no BiFab piles have been shipped to the Moray Firth site to date.
Fife-based BiFab would not confirm how many pin piles were ready for shipping, but a spokesman for the firm said: "We are continuing to fulfil the contract for the Moray East project.
"There are more than enough piles to ship out to the site.
"There are completed piles in both Methil and Arnish ready for shipment."
In July, BiFab faced claims that it was "mismanaging" the contract – resulting in the firm announcing 40 new jobs at its re-opened Methil yard.
A Scottish Government loan of £25 million stopped the company going into administration in 2017.
BiFab, which in 2017 employed 1,400 workers across three sites, has struggled to win work on big Scottish offshore wind projects, forcing it to mothball all of its yards.
But the pin piles contract at Arnish for the Moray East Offshore Wind Farm created 100 jobs, while it is understood the company has also won a contract to supply eight jackets for the 53-turbine Neart Na Gaoithe wind farm in the Firth of Forth.
A spokesman for Moray East said: "These are matters for the contractors concerned. Moray East is confident that good progress on site will continue."
Recommended for you

Saipem completes work at Neart na Gaoithe wind farm