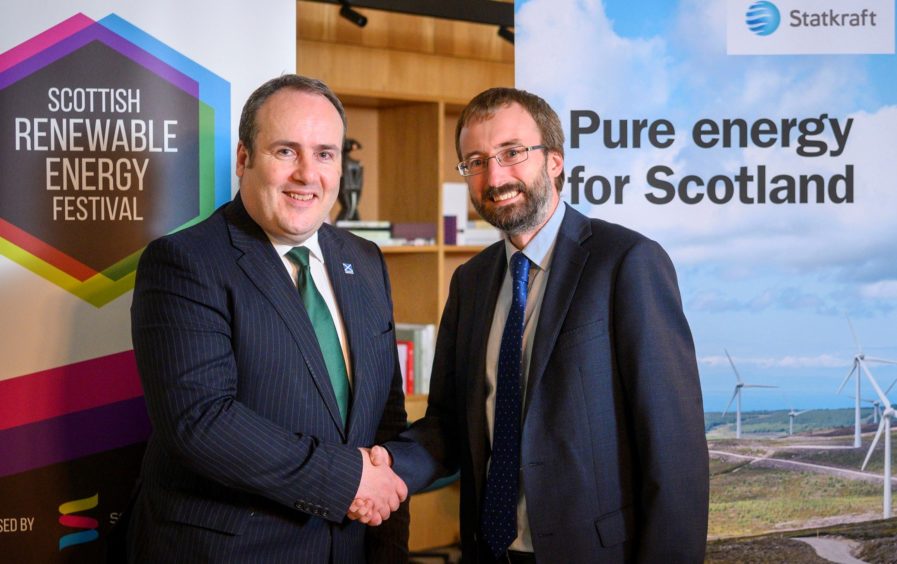 Norwegian firm Statkraft officially opened its new Scottish office last night, promising "significant investment" in the country's onshore wind sector.
Statkraft, who recently purchased rival Airvolution and retained the company's Glasgow base, said it has "ambitions" to build up to 600 megawatts (MW) of renewable energy projects by 2025.
The firm's boss claimed his firm would be making a "significant investment" in Scottish onshore wind.
Scotland's energy minister Paul Wheelhouse opened the new office space along with sector trade body Scottish Renewables' chief executive Claire Mack.
Statkraft has three onshore wind farms in Scotland, including the Berry Burn Wind Farm in Moray and the Baillie Wind Farm, west of Thurso.
The firm also pledged to "focus on the possibility" of bringing high-speed wireless internet to Scotland's rural communities.
Paul Wheelhouse MSP, Minister for Energy, Connectivity and the Islands said: "It is clear that onshore wind plays a vitally important role in our current energy mix, that this role will continue to be critical to meeting our future energy needs and it is renewable energy projects like the onshore wind farms developed by Statkraft, that will help us achieve our low carbon ambitions.
"I look forward to seeing what more Statkraft can achieve here in Scotland, as we work together with the sector to reach our energy targets and to meet or exceed our World leading greenhouse gas emissions reduction targets."
Statkraft has 3,600 employees in 16 countries.
Since 2006, it has invested £1.4 billion in the UK renewable energy sector.
Mack said: "Statkraft's commitment to develop 600MW of renewable energy projects in the UK by 2025 means it will play a key role in the deployment of the green power capacity we'll need to meet our stretching climate targets, and the company's enthusiasm towards working with local communities is even more impressive for that."
David Flood, Managing Director of Statkraft UK said: "We will be making significant investment via construction and operations and look forward to a growing partnership."
Recommended for you

Tech giant Amazon announces investment in 'major' Scottish offshore wind farm