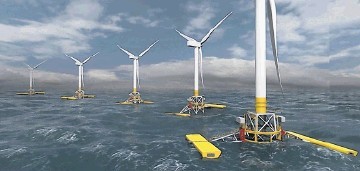 RENEWABLE-ENERGY firms in the north-east are confident about their prospects and ready to grow, a survey of the industry has revealed.
Nearly nine out of 10 of them said they expected to increase their staff over the next year.
More than half the 125 firms surveyed for the Aberdeen and Grampian Chamber of Commerce (AGCC) study had seen an increase in investment over the past year and about four-fifths expected research and development activity to grow during the next 12 months.
AGCC chief executive Bob Collier said: "Renewable energy has great potential for growth in this region, building on the skills and expertise that have been developed as a result of the oil and gas sector. Aberdeen City and Shire is well placed to deliver this opportunity in the form of jobs, sustainable growth and business profitability. This will not only benefit the region, but will also impact on the prospects of renewable energy for Scotland and beyond."
He added the information gathered could be used to inform business, government and other decision-makers about future direction.
Firms which took part in the survey included Aberdeen firm Green Ocean Energy (GOE), which is building a full-scale prototype of its Wave Treader for deployment at a UK test centre. Chief executive Graeme Bell said the industry's confident mood about long-term prospects was offset by major concerns about financing, from both the public and private sectors.
"Current economic uncertainty is making investment very difficult," he added.
The Scottish Government is looking to build a world-leading green-energy industry, creating tens of thousands of jobs, by exploiting the country's natural resources. It has also set a target for all of Scotland's electricity demand to be met by renewables by the end of the decade.
AGCC's survey revealed doubts over whether this could be achieved and also concerns about getting renewable energy on to the national grid. It also found that fewer than 20% of businesses had reached the production phase, with most still at the conceptual and design stages.
Meanwhile, trade body RenewableUK has welcomed official figures showing electricity production from UK windfarms in the three months to June 30 had risen by 131.1% year-on-year.
Recommended for you

Protium Green Solutions aiming to solve hydrogen market failure