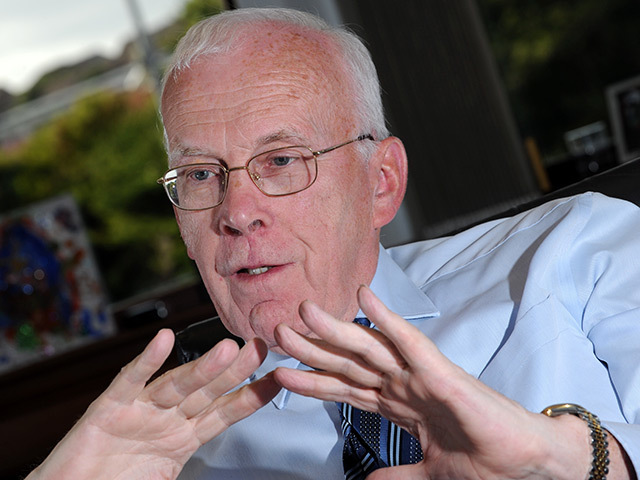 North-east oil and gas doyen Sir Ian Wood says Aberdeen could be the energy capital of the world – but only if political leaders show more commitment to making it happen.
The 77-year-old businessman became one of the richest and most successful in the country after growing his father's fishing company into a multi-billion-pound oil services giant, operating in more than 50 countries worldwide.
Over the last 40 years he watched as the industry evolved through enormous highs and devastating lows.
But perhaps one of the most significant blows to the sector has been the visible damage hydrocarbons have caused to the environment and the reaction of protesters around the globe.
Sir Ian believes that now, more than ever, it is imperative the industry prepares for net zero in 2050 – and that the north-east of Scotland can also capitalise on the skills learned from oil and gas to be a leading light in energy transition.
He said he hopes with facilities like the new Aberdeen South Harbour, the Oil and Gas Technology Centre (OGTC), both universities and the backing of Opportunity North East, the region will be renamed energy capital of the world.
Sir Ian hopes the north-east's expertise will attract "big players" in renewable energy to be based here in a cluster.
But he said political leaders must become more committed to the cause. He claims delays in the planning process, whereby it could take many years to gain permission, could discourage firms from bringing projects here.
He said: "It's all very well for governments to deal out energy targets but they need to apply them to themselves and inject a lot of cash.
"In terms of the bureaucracy that exists in terms of offshore wind, it's 10 years before it's up and running after the initial period of conception.
"There's a need to really look at it all. For a long time we have come to accept local authority planning as a very slow process. How long will it take to get planning permission for the likes of a hydrogen facility? So I believe there is a real need to look at local authority planning and the role they play in achieving what we need to to make the north-east a renewables cluster."
A Scottish Government spokesperson said: "We agree with these aims for energy in the future and have already delivered significant energy projects, onshore and offshore.
"We are drafting an offshore wind policy statement, due to publish for consultation by the end of 2019. This will make clear our ambitions for offshore wind and the steps we will take to secure as much development and economic benefit as possible.
A NEW INDUSTRY BORN
Sir Ian said we are "entering a time of a new industry".
While he believed the renewables sector will never be as big as oil and gas at its peak, he said it will be as big as it is today.
The chairman of development economic body Opportunity North East said: "Renewables and carbon capture and storage (CCS) is significantly changing the economic position in the north-east of Scotland.
"The good news is we are going to have two industries.
"We are going to have oil and gas continuing as it is but with depletion eventually at 2050 in oil and gas."
Sir Ian said the next year will be seen as the start of the new age of renewables and this is the time to make Aberdeen known as energy capital of the world rather than oil and gas capital.
He said: "Climate change is important to everyone, including the oil and gas industry, which is taking it very seriously and is committed to being net zero by 2050.
"I believe this is perfectly achievable but only with renewables working alongside oil and gas and by using our experience from our oil and gas days."
He cautioned against believing energy needs could be satisfied without oil and gas in the immediate term and insisted the oil and gas sector, which employs 120,000 nationally, is still pivotal to the energy mix and the north-east economy.
He added: "All you can do is maximise renewables, and what doesn't make sense is to stop oil and gas.
"What do you do when you reach 2050 and you're still one third short of the energy requirement? Half of the shortfall, so one sixth of the whole energy mix, will be our own sovereign oil and gas with the remaining sixth coming from imported gas.
"If you look ahead 20 years from there the oil and gas production
will be reduced right down and you will be on 100% renewables."
Recommended for you

Sir Keir Starmer pledges publicly-owned energy company