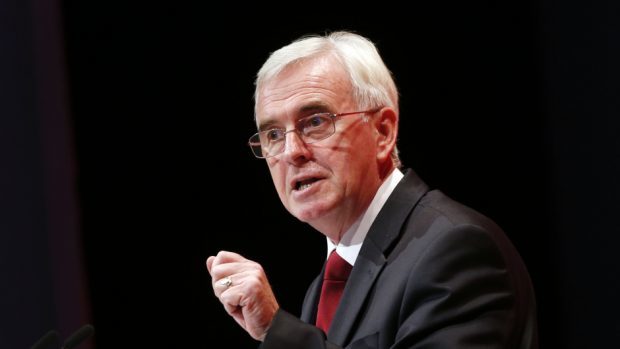 A fresh threat of job losses at a Western Isles fabrication plant was branded "an outrage" by shadow chancellor John McDonnell yesterday.
The Canadian owners of Burntisland Fabrication (BiFab) admitted the future of the workforce at its Arnish yard in Lewis was "unknown" after initially denying they were planning to lay off 80 staff.
DF Barnes would not rule out future job losses at the site, adding that it will "have to see what happens".
BiFab had secured a contract to build 100 pin piles for the Moray East Offshore wind farm, creating 100 jobs and revitalising the Lewis facility back in March.
But with those structures now being shipped out to the Moray Firth site the future of the firm hangs in the balance.
Shadow chancellor John McDonnell said: "It is an outrage that these workers are still facing uncertain futures.
"It's quite straightforward – BiFab needs certainty and investment just like other green industries of the future.
"Labour, through our National Transformation Fund and National Investment Bank, will provide the investment that Scotland needs in places like the Arnish yard in the Western Isles.
"Labour is absolutely committed to tackling the climate emergency but we will not do that by watching our engineering base lose out on work."
Prospective Labour candidate Alison MacCorquodale has called for urgent action to protect jobs at BiFab Arnish and to ensure a flow of work which will give future security to the yard.
Ms MacCorquodale said: "Once again we see the threat of redundancy hanging over Arnish workers. The lack of certainty and continuity is a disgrace which flows directly from the Scottish Government's failure to invest in and properly support the offshore renewables industry.
"Arnish is dependent on BiFab but they are left at the tail-end of a chain, fighting for crumbs from the big offshore wind contracts because of lack of investment in the Fife yards.
DF Barnes said it remained "optimistic" and "confident" that future work could be secured at Arnish.
MSP for the Western Isles, Alasdair Allan, last night described the situation as "concerning for the whole community" on Lewis.
He added: "The most important thing now for BiFab is to get more contracts."
A Scottish Government spokesman said: "After helping BiFab to avoid the threat of administration, the Scottish Government has been in regular contact with the company, investors and relevant parties to ensure a strong, sustainable future for BiFab and the people it employs.
"Some contracts are nearing completion, but by working with the company to secure new business, we hope to provide the best means of creating jobs in the longer term for both the Fife and Isle of Lewis communities.
"We will provide support for any staff affected by redundancy through our Partnership Action for Continuing Employment (Pace) initiative."
Recommended for you

Harland and Wolff rounds off inaugural contract at Arnish yard