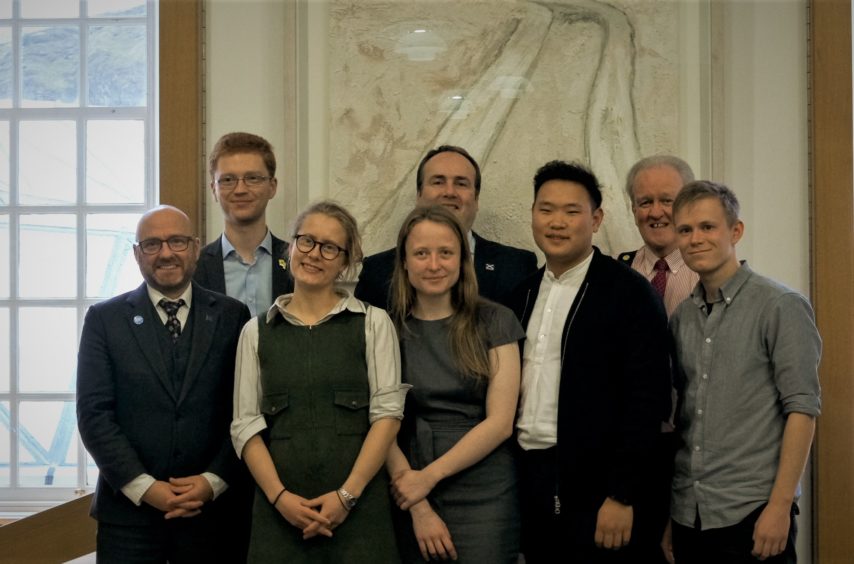 A group of young Norwegian politicians and climate activists visited a Stonehaven wind project and met the country's energy minister in a bid to understand the Scottish clean energy transition.
NorthConnect, the developers of a giant Peterhead to Norway energy cable, hosted the visit last week.
The group of four young Norwegians visited the Scottish Parliament at Holyrood and an onshore wind farm, at Midhill near Stonehaven.
The group met with local MSP, Stewart Stevenson, who as eEnvironment Minister led the charge with Scotland's first Climate Change Act passed in 2009, leader of the Green Party, MSP Patrick Harvey and the Parliament's youngest MSP Ross Greer.
They also met with Minister for Energy, Paul Wheelhouse to discuss and debate the action needed to achieve the 'net-zero' carbon emissions target.
NorthConnect is a 1.4GW interconnector project which aims to connect the Scottish electricity grid with the Norwegian grid in order to expand the opportunities for both countries' renewable energy production, assisting in the fight against climate change.
While all of the consents are now in place in the UK to take the project into construction, NorthConnect is yet to hear from the Norwegian Government in relation to the consents required in Norway.
It is expected that a recommendation the Ministry of Petroleum and Energy (MOPE) will be issued before the end of this year and a decision made soon after.
Fiona Milligan, communications manager in the UK said: "The climate emergency is at the forefront of everything these young politicians are talking about, whether in relation to energy policy or health and social care.
"Helping them understand the benefits of projects such as NorthConnect to both Norway and Scotland in relation to the challenges our uncertain future holds will allow them to make clearer decisions in their day to day work back in Norway."
Recommended for you

Italy wheels out top politicians for North African energy push