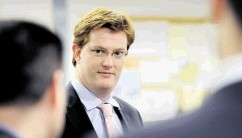 Chief Secretary to the Treasury Danny Alexander said yesterday that the UK Government hopes to introduce further tax relief for the oil and gas industry in next year's Budget.
Talks between the sector and the Treasury have lasted months as both sides attempt to restore confidence among North Sea investors after the government's £10billion tax grab earlier this year.
The industry said trust in the government was at an all-time low after the Budget announcement, and in the summer the government extended a tax break on the industry to mitigate some of the impact of the levy rise.
Mr Alexander, MP for Inverness, Nairn, Badenoch and Strathspey, said yesterday that discussions between the government and the oil and gas sector were "going well" and said the Treasury was open to further concessions.
Speaking during a visit to Aberdeen-based manufacturing firm Woollard and Henry, Mr Alexander said: "I believe the decision we made was the right one in order to ensure we could deal with some of the pressure on consumers because of the high price of oil. I think the process of engagement has been intensive and positive and we continue to have conversations about field allowances.
"We are also looking at the tax regime around decommissioning, which will be an increasingly important question as the North Sea reaches and goes beyond maturity."
Decommissioning tax relief has been seen as a major thorn in the side of the oil business for years and is coming to a head as North Sea assets get nearer to being dismantled. Mr Alexander said: "We need to put in place a long-term regime for decommissioning relief and we want to make further announcements about that in next year's Budget."
He added the oil and gas industry had kept the north-east ahead of the rest of the Scottish economy during the recession and added the energy sector as a whole could support growth in the north for years to come.
He said: "I think the renewables sector is a huge area of potential for this part of the world and the government attaches serious importance to the renewables sector in the north of Scotland. I see energy as a huge area of opportunity here and I am determined to make sure we take it."
Recommended for you

Shell CEO says £25bn UK investments 'have to make sense' amid windfall tax calls