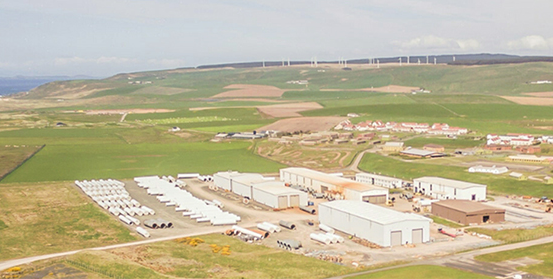 CS Wind's plans to shed 80% of its workforce are "unlikely to change" it has revealed, as a meeting between unions, the Scottish Government and management broke down today.
Unite the union pledged to "continue the fight" for staff of the troubled Campbeltown-headquartered firm in the hope of overturning the firm's decision to shed more than 70 jobs.
The union confirmed that the job cuts are still "scheduled to go ahead" despite the talks.
A spokeswoman for CS Wind said "Things are unlikely to change at this point.
"But we still have a consultation period running to to November 29."
Discussions were held today between Unite, Argyll and Bute MSP and MP's, Mike Russell and Brendan O'Hara and CS Wind management.
Another meeting is scheduled for November 22.
CS Wind announced it would let go three quarters of its workforce last week due to "gaps" in its order book.
It is understood a total of 73 jobs are to go at the company, which has a total workforce of 94.
Unite regional industrial officer, Charlie McDonald said: "These workers and the community of Kintyre peninsula deserve a future.
"We cannot continue to see jobs lost without politicians stepping in to stem the flow. If we fail to save these jobs that is yet another nail in the coffin of Scotland's renewables manufacturing base."
"The workers at the site feel they are being laid off in an attempt to bring in casual and agency workers on poorer terms and conditions. Unite will fight any attempt to dilute the skill base at the site with a casual workforce."
Unite union has reacted furiously to the news and heavily criticised the Scottish and UK Governments for the "minimal" manufacturing work awarded to Scottish renewable energy suppliers.
CS Wind's facility in Argyll and is the UK's first offshore wind turbine tower manufacturing facility.
Mr McDonald added: "Let's be clear. Scotland is at a cusp.
"We are either a country fit for the 21st century, creating hopes, dreams and opportunities, or we are the quintessential biscuit tin image of kilts, heather and mountains with Scotland as a theme park and the only industry left is tourism, leaving a trail of jobless people and shattered communities.
"If we are to be the former, then tell me who is stepping forward to take on the challenge needed to stem the flow, because we certainly can't continue as we are going.
"We will continue to press the case for retaining these permanent, high quality, skilled jobs in the community."