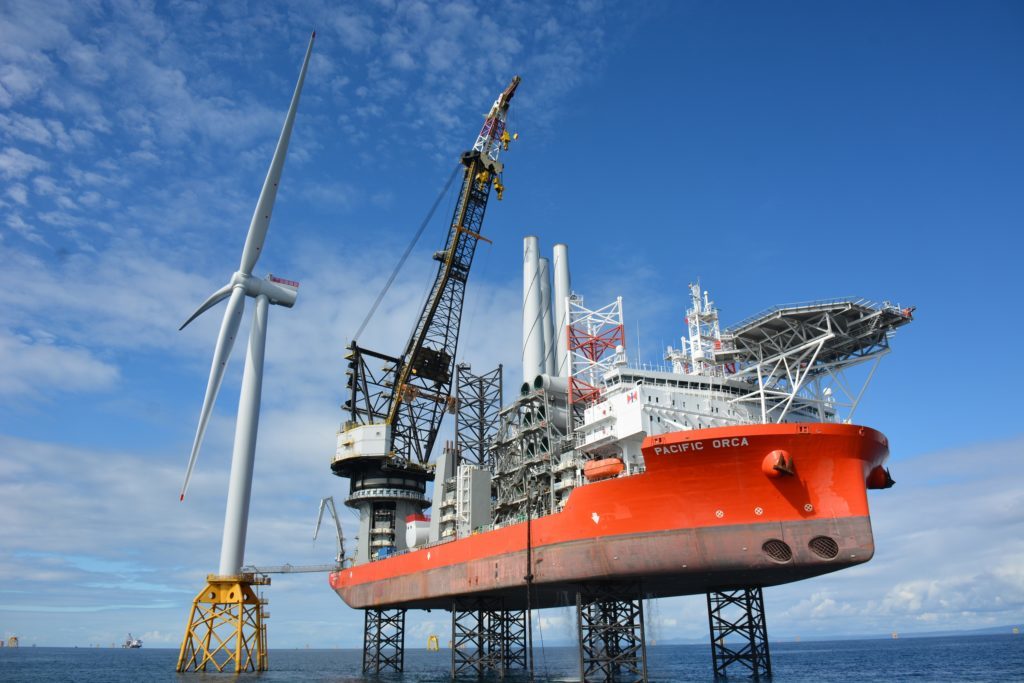 Millions of pounds of potential work has been pitched to the Granite City's oil and gas supply chain in an effort to bring companies in on a giant Scottish wind farm development.
SSE Renewables was in Aberdeen to meet contractors as part of the construction of its 114-turbine Seagreen wind project planned off the Angus coastline.
John Casserly, head of procurement at the firm, said millions of pounds worth of tier two supply chain work is "on the table" for pioneering firms who can adapt from traditional oil and gas to work in renewable energy.
He claimed that SSE's previous project, the 84-turbine Beatrice Offshore Wind Farm in the Moray Firth, spent more than £600 million in Scotland – which will become £2 billion over the lifespan of the project.
Mr Casserly revealed that the Seagreen project will require more than 300 contracts to build the mammoth wind farm.
He added he wants the "broad skillset" of the north-east energy sector to be involved.
Mr Casserly said: "Aberdeen has the oil and gas firms and the infrastructure around it, and particularly in things like design, engineering and technical capabilities – the goods and services that we'll need.
"We're actually oversubscribed here in Aberdeen, we've had to get a bigger room.
"We know from working on Beatrice, that from Inverness to Aberdeen to Dundee, the skill sets are here."
Seagreen Offshore Wind Farm is expected to have a £6bn lifetime investment and could bring thousands of jobs to the area during the construction phase.
It is also understood that up to 410 jobs could be created to operate the wind farm.
Planned 16 miles off the coast of Angus, Seagreen Phase 1 will be the most powerful wind farm in the UK once completed.
It should produce enough energy to power 40% of all households in Scotland.
SSE Renewable's meet the buyer events were also held in Inverness and Dundee this week.
Renewable energy stock is rising in Aberdeen
The stock of the renewable energy sector is rising in the eyes of many oil and gas bosses looking to diversify their business, John Casserly said last night.
He claimed that, excluding Brexit, the energy transition was one of the "most talked about topics right now".
Mr Casserly said: "Apart from the oil majors, the support companies have realised that there is a long-term future in the renewable energy sector.
"Oil and gas will be around for a while, but now Aberdeen companies are looking to give themselves more lasting security by working across other industries.
"Our biggest problem is whether we can leverage the local capability for what we need it for.
"There is a great supply chain here, but we need it to be able to adapt and be innovative."
Last month, SSE Renewables announced that it has inked a deal to use Montrose Port as its operations and maintenance base for the construction of the Seagreen Offshore Wind Farm.
It also revealed Danish manufacturer MHI Vestas as its preferred wind turbine supplier.
Mr Casserly claimed SSE Renewables was committed to creating lasting jobs locally.
He said: "Scotland is really good at doing things, and our biggest export is often our people.
"It would be good if, instead of exporting the best people from our enegry sector, we kept them here and their skillset.
"I think offshore wind has the ability to have a great impact on skilled jobs and to create jobs here.
"We're currently trying to focus on how do we secure long-term, good, high quality jobs for the UK, and particularly locally in the north of Scotland."
After Seagreen phase one, SSE Renewables will look to move on to the second phase, building a wind cluster capable of powering over 2 million homes.
SSE is understood to be looking at a completion date of 2024.