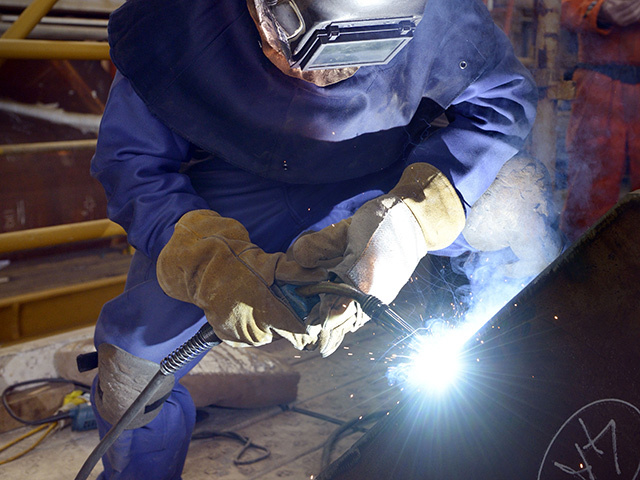 A new wind farm deal for Burntisland Fabrication (BiFab) could bring a Christmas jobs boost to workers at its Arnish yard, according to a source close to the firm.
Developer EDF Renewables announced yesterday that BiFab would build turbine jacket structures for its £2 billion Neart Na Gaoithe (NnG) offshore wind farm off the coast of Torness.
The contract – for at least eight jackets – would bring up to 200 new jobs to the firm's Methil yard in Fife.
But it was also revealed yesterday that an additional contract for around 100 pin piles to be built at BiFab's Arnish yard is also being negotiated – with the potential to create dozens of jobs.
No contract has yet been signed between BiFab owner DF Barnes and Italian contractor Saipem, but the deal is understood to be in "final negotiations".
Job losses at Arnish began earlier this month with no new contracts on the horizon.
The firm recently completed a pin piles contract for the Moray East Offshore Wind Farm, which created 100 jobs and revitalising the Lewis facility back in March.
A spokesman for DF Barnes described the news as "positive" for the firm and "the opportunities it presents for communities in Fife and the Isle of Lewis".
He added: "We can confirm that BiFab is in final negotiations with Siapem to deliver jackets and remain hopeful of securing work on the piles."
But GMB Union argued that the deal "doesn't look good enough" in terms of jobs numbers and the long term future of BiFab.
Gary Smith, GMB's Scotland's secretary said: "Something is better than nothing, but it's hardly the green jobs revolution.
"It's also troubling to hear EDF claim Scotland doesn't have the sufficient skills and contractors to build for all aspects of offshore wind construction."
Saipem was announced as the main contractor for the 54-turbine wind farm yesterday in a deal understood to be worth more than £350 million.
But it is thought that much of the manufacturing work for the NnG project will be done at the firm's facility in Indonesia.
Unite union Scotland secretary Pat Rafferty hit out at the lack of "clarity" over job numbers at Arnish.
He said it should be a "source of national embarrassment" for the Scottish Government that the vast majority of work will be done in Indonesia.
Recommended for you

Saipem completes work at Neart na Gaoithe wind farm