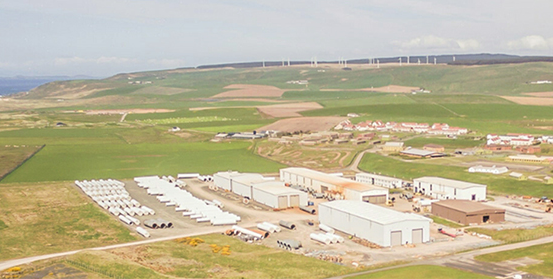 Up to 28 jobs are understood to have gone at a Scottish wind energy firm today as the fight to keep 80 staff in work looks to have failed.
Unite union described the situation as "pretty frightening" for the Scottish renewable energy sector as it warned that virtually all jobs at the company are "at risk".
CS Wind are the only company in the UK who manufacture onshore and offshore wind towers.
Unite and Campbeltown-headquartered company CS Wind have been in discussions since news broke in October that the firm faced making up to three quarters of the workforce redundant.
CS Wind employs around 94 people at its facility in Argyll on the west coast of Scotland.
The firm made a £27 million investment in the site in 2016 and reported pre-tax profits in excess of £7m in 2018.
It recently completed orders for the Moray East Offshore Wind Farm in the Outer Moray Firth and ScottishPower Renewables East Anglia One Wind Farm.
Charlie Macdonald, Unite regional industrial officer, confirmed today that 28 jobs have been shed at the site, with a possible 80 workers facing redundancy.
CS Wind has blamed on "gaps" in its order book for the job losses.
Mr Macdonald said: "According to CS Wind they are fighting to secure various different contracts but right now there is a gap in the order book, which is very disappointing for the workforce.
"CS Wind is unique in that it is the only place in Britain able to build and store these towers and the sad thing is that if we lose this factory we'll have nothing in Britain.
"We'll be in a situation where we'll have wind towers sitting off the coast and in the glens of Scotland that are not being built here.
"Where is the commitment from the Scottish Government to the whole green economy and the renewables sector throughout Scotland?"
The Scottish Government has been contacted for comment.