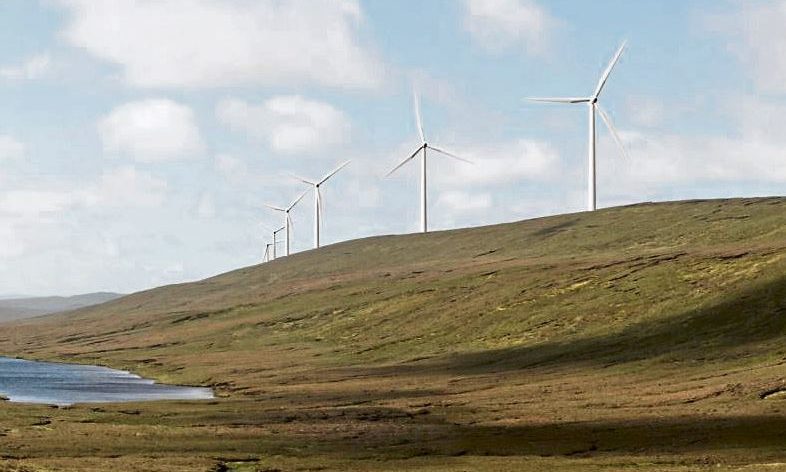 A giant Shetland wind project has renewed its commitment to push on with construction, as a fresh proposal to connect the island to the mainland was approved by officials yesterday.
The news was touted as a massive shot in the arm for the 103-turbine Viking Onshore Wind Farm, which lost out on a UK Government contract bid in September.
Developer SSE Renewables said it was "fully committed" to the development and was "seeking out other ways to fund" the wind development.
It described the project – a joint venture between the Shetland community and SSE – as "shovel ready".
Viking Energy Wind Farm partnership (VEWF) hopes to have the venture operational by 2024.
VEWF welcomed Ofgem's decision yesterday to approve proposals for the new Shetland power link.
It described the giant wind farm as the "anchor project which commercially underpins" the island to its mainland connection.
VEWF added that it now awaits Ofgem's final decision on the revised plans, expected in the coming months, in order to progress the Viking Wind Farm.
A spokeswoman for SSE Renewables said last night that the firm would "continue on with the project" adding that it was seeking "an alternative route to market".
She added: "In the meantime, enabling work on the project has already begun to ensure that it can proceed without delay when a final investment decision is reached."
Shetland Islands Council leader Steven Coutts said he "welcomed Ofgem's holistic approach to this issue".
He added: "We are especially keen to see a solution which addresses energy supply for the isles.
"However, we do await further details on how this might affect local employment in the industry."
It is understood around 140 local jobs would be created during Viking's construction phase, with around 35 permanent jobs needed to maintain the project once complete.
The wind farm would look to generate enough energy to power almost half a million homes.
Colin Nicol, managing director for networks for SSEN, claimed the newly approved connection proposal "will support future security of supply as well as unlocking Shetland's renewable potential".
He added that the transmission link would also "help support the electricity needs of Shetland's oil and gas industry and its wider economy".
Recommended for you

West of Shetland: The projects in the UK's oil and gas hotspot