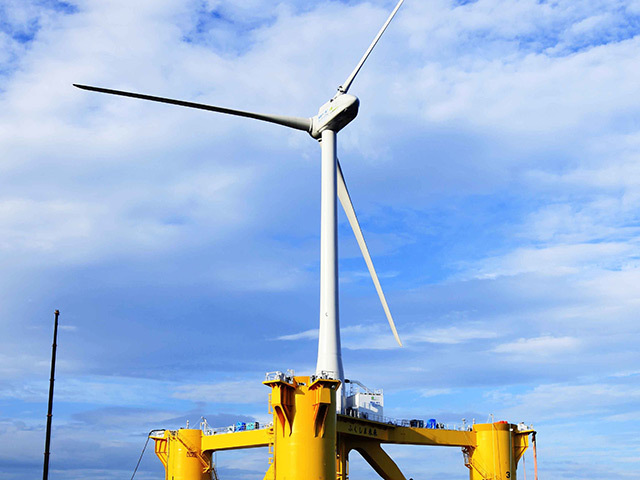 A floating wind firm purchased by Shell in November is to review the future of a Scottish office registered before the buyout, the company's head of projects said last night.
Brittany-headquartered Eolfi, a French renewable energy developer specialising in floating wind projects, registered the Edinburgh office for Eolfi Scotland in late October 2019.
It was announced that Shell would buy up 100% stake in the company on November 5 – but the deal was not finalised until December 20.
Josselin Gillot, Eolfi's head of international projects, said that that discussions with Shell would take place "over the coming weeks".
She added that Eolfi would "review its plans in line with the Shell strategy", but added that she was "unable to comment further" on the newly registered office.
Ronnie Quinn, a renewable energy advisor currently retained by Eolfi in Scotland said it was "too early to say" what the future of the office would be.
A Shell spokeswoman confirmed the office was registered before the purchase, but would not comment on the future of Eolfi Scotland.
Shell's energy transition manager, Joanna Coleman, confirmed in September that the energy giant was "absolutely" looking to get into the offshore wind market, including floating wind in Scotland.
She added that Shell was also looking at offshore wind development in the UK North Sea.
A new draft proposal was released by Marine Scotland last month which showed a number of potential areas around Aberdeen and the greater North Sea.
The deal with Shell, agreed for an undisclosed sum, saw Eolfi become a wholly owned subsidiary of Shell.
Eolfi has a workforce of over 65 across Paris, Lorient, Marseilles and Montpellier and has raised more than £280 million in financing since it started in 2004
It has developed more than 200 onshore and offshore renewable energy projects across five countries and has been involved in the floating offshore wind sector since 2012.
Recommended for you

Proserv picked to monitor cables at Hywind Scotland floating wind farm