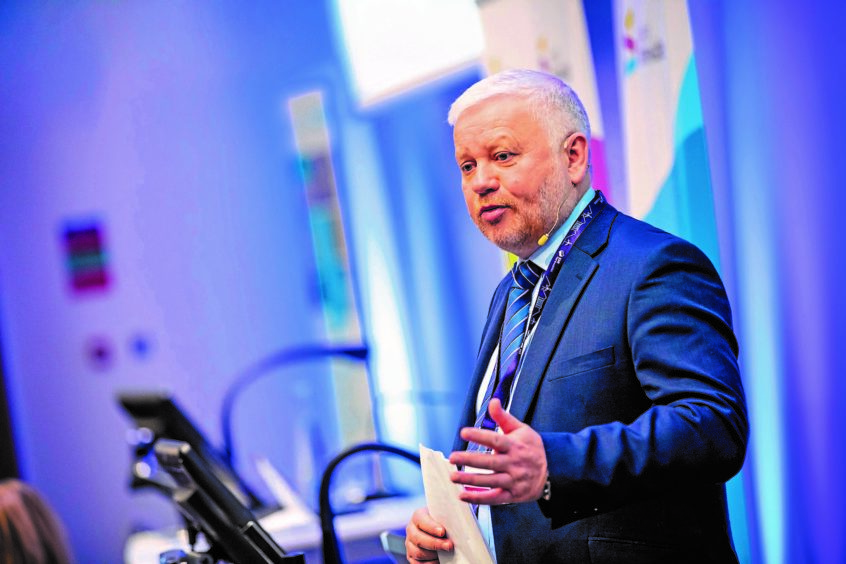 North Sea wind projects alone "will not support" a vibrant home supply chain and jobs, according to the boss of Scotland's biggest offshore wind developer.
SSE Renewables managing director Jim Smith said supply firms should not rely on work from domestic offshore wind projects, and try to win more work outwith Scotland.
He was speaking to a sold-out audience at the Scottish Renewables Offshore Wind Conference in Glasgow.
Mr Smith called on the Scottish supply chain "to engage" not just in Scotland but globally.
He said he did not think Scottish projects would "provide sufficient supply chain demand to provide sustainable business for the supply chain".
He added: "It really needs to look beyond Scotland – it's not just about the home projects."
SSE Renewables' upcoming project, the 114-turbine Seagreen offshore wind farm off the coast of Montrose, has attracted criticism after correspondence appeared to show the lion's share of jacket manufacturing work will be carried out at a huge yard in the Far East.
The Seagreen fabrication contract, sought by Scottish firm Burntisland Fabrication, is understood to be going to Zhuhai Fabrication Yard, owned by China's Cooec-Fluor Heavy Industries.
Unite the Union Scottish secretary Pat Rafferty said: "The irony should be lost on no one that SSE – a Scottish company – is rumoured to be awarding substantial volumes of work to China, and then for those turbines to be transported on barges back to Scotland.
"It's bizarre to suggest that local and regional supply chains should expect to receive no direct benefits. SSE and other firms do have obligations."
SSE also operates the giant Beatrice offshore wind farm, in the Moray Firth, which generates enough energy to power 450,000 homes.
Earlier this month, a strict new rule change by the Scottish Government called on offshore wind farm developers to set out how they plan to create local jobs.
Scottish Energy Minister Paul Wheelhouse said yesterday "capacity did exist" in Scotland to build a local supply chain.
Recommended for you

Offshore Energy industry and its role in security and a low carbon future