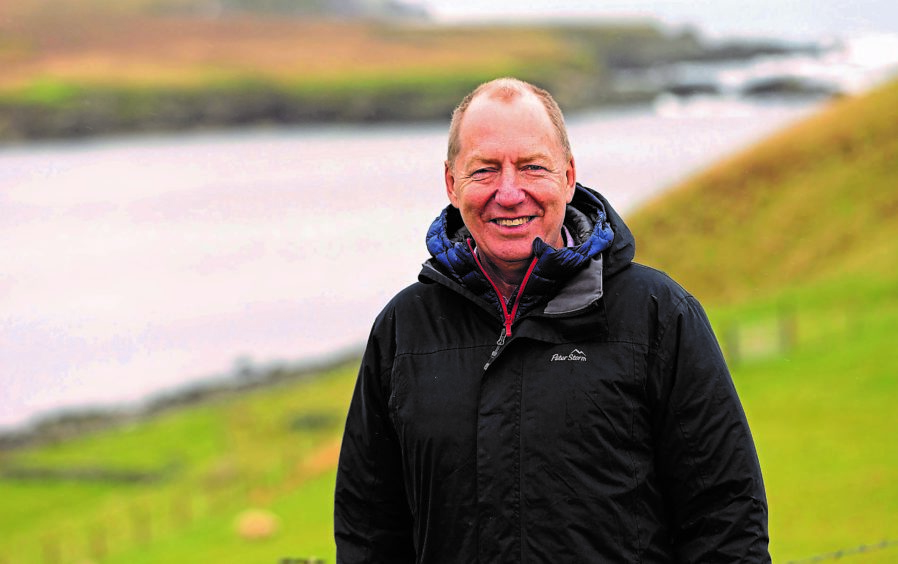 A large Norwegian renewable energy generator has come to play in Scotland and is putting a serious chunk of money down on the table.
Statkraft, a state-owned firm based in Oslo, staked its claim in Scotland in September with a new office, but it already has a clutch of onshore wind projects in operation and has set aside millions for new projects over the next five years.
Head of business and project development Richard Mardon claimed Statkraft could be prepared to invest £600 million on Scottish projects through to 2025 – which equates to 75% of its planned global spend – with a number of schemes planned in Grampian and the Highlands.
The firm hopes to deliver 14 projects and has two in the planning phase, namely the 200 megawatt (MW) Energy Isles project on Shetland and the 40MW Slickly Wind Farm near Caithness.
It also has three operational wind farms in Scotland, two of which are in the Highlands.
Mardon said: "Our strategy, signed off by the board last summer, is to invest in 600MW of wind and solar generation by 2025 – that's upwards of £800 million to a billion in investment. And up to three-quarters of that will be in Scotland.
"Our pipeline of wind projects can operate below the current market price so they are very capable of being built on a subsidy-free basis, but I'm not saying we don't need some sort of support mechanism."
Mardon is only too aware of the political issues surrounding onshore wind in the UK.
Scotland has become an attractive destination for many European wind firms, partly due to the blustery conditions, but also because England has set up a system where a local veto can effectively put the kibosh on any new offshore wind project before the ink is properly dry on the plans.
Mardon concedes that policy has "absolutely" had an effect on his firm's decision about where to put its money in the UK.
He said: "The planning regime in England is tough. Thankfully, Scotland is windy and less densely populated.
"To get to that lowest cost situation, you really need to have the wind speeds that you've got in Scotland.
"The policy and planning situation is also positive. We've had a number of productive discussions with the Scottish Government."
Statkraft only opened its Glasgow office space less than six months ago, but Mardon claims it will look to show its commitment by doubling its headcount over the next six months.
The firm also wants to hire locally to build-out its projects across Scotland.
Mardon said: "Scotland knows how to build things, which has helped us enormously through using a local supply chain over the last few years.
"We're a big advocate of hiring locally and using local firms as part of our mandate."
He believes Statkraft has some advantages in a competitive onshore wind market in Scotland, offering a route to market you will rarely see elsewhere. He said: "We're very financially strong so we traditionally balance-sheet fund all of our projects so we don't necessarily need to rely on banks.
"So we can be more comfortable with some risks than third party investors can be, we know what we're doing in terms of wind and already have 400MW of power purchase agreements (PPAs) under our belt.
"We can offer that route to market but also need to hedge those risks out."
However, the amount of UK onshore wind farms being built has declined rapidly over the last three years.
Mardon said the solution could come from those who have been accused of hampering it and wants government to incentivise wind developments to lower the overall cost of building projects – effectively a complete U-turn on UK government policy.
He said: "There are two different parts to this argument. One part is being able to build, develop and operate in a very low-cost way – and there's no doubt that onshore wind is the lowest cost form of any new generation around at the moment.
"But you need to put in place a structure where you can actually sell that power.
"Grid connection is challenging, so even getting our electrons into the grid and getting a commercial structure in place for someone to buy the power is where the government should step in. It wouldn't be a subsidy, it would be a contractual structure to enable more projects to be built and lower the cost. It's a no-brainer, but policy still at Westminster is lagging behind.
"The amount of onshore wind in the UK has fallen off a cliff and it's because of the current set-up."
Asked how big Statkraft can get in Scotland over the next 10-15 years, he claims it is "looking at putting in three or four projects per year for the next three or four years to get to our total of about a gigawatt (GW)."
It also hopes to generate around £3m a year in community benefit for the local area.
Mr Mardon added: "If you look at the Committee for Climate Change report there's a lot to do to get to the net zero carbon target in 2050.
"People question whether there could be a saturation of wind farms across the country but the fact of the matter is that only about 6% of land in Scotland is even able to be developed.
"But, that said, Scotland is still a big country and there are still plenty of areas that can be developed and even things like extension or repowering of projects could be a sensible approach.
"Statkraft is a long-term player who's been in operation for 150 years. It is part of Norwegian culture and we want to do the same here.
"We are a long-term investor in community-based infrastructure projects and we're totally committed to following that through."