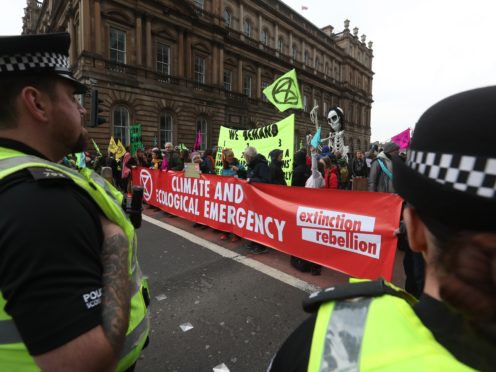 Rioting similar to the yellow vests protests in France could happen in Scotland if measures to cut emissions are not seen to be fair, ministers have been warned.
Climate change policies could spark backlash akin to the mass protests in France if any benefits are not shared equally or the costs disproportionately affect the poorest, according to a new report.
The Just Transition Commission – a group of environmental experts, industry bodies and trade unions set up by the Scottish Government to advise on climate change action – said there must be urgent consideration about the impact of climate policies.
A report by the commission is calling for "clear transition plans" about how Scotland moves towards a net-zero economy without disproportionately hitting individuals and communities.
The commission cautioned the Scottish Government that efforts to tackle climate change are "unlikely to be sustainable if it is not delivered in a way that is fair".
The Just Transition Commission's report states: "If action taken to reduce emissions is unfair, or is perceived by the public as being unfair, then it risks the kind of backlash seen in France with the gilets jaunes protests.
"This should serve as a reminder of the importance of ensuring we understand and address public concerns regarding the net-zero transition."
The gilets jaunes – or yellow vests – protests across France since 2018 emerged from citizens protesting against a planned increase of diesel and petrol taxes, which President Emmanuel Macron said would support the country's transition to green energy.
The Scottish Parliament passed a legally binding commitment to have all emissions offset by 2045, with an interim target of a 75% reduction by 2030 compared to 1990 levels.
Policies announced by the Scottish Government as part of its measures to cut emissions include the workplace parking levy, giving councils the power to tax business car parking spaces in an attempt to discourage commuters from driving.
Low-emission zones banning certain vehicles from entering city centres are planned for Aberdeen, Edinburgh and Dundee, and have started to be introduced in Glasgow.
Just Transition Commission chairman and climate scientist Professor Jim Skea said: "While emissions have fallen by almost 47% since 1990, the next phase of Scotland's fight against climate change will be harder and will have a much more visible impact on people's day-to-day lives.
"This will bring significant opportunities but also inevitably challenges which must be managed by Government.
"It is imperative that we ensure fairness and a just transition for all as we move into this next phase if we are to have any hope of ending our contribution to climate change."
He added: "Bringing everyone – communities, businesses and individuals – along with us as we transition to net-zero will be vital if we are to succeed in ending Scotland's contribution to climate change.
"However, this will only happen if Government engages in timely and proactive dialogue.
"Some of the building blocks are in place but focused attention will be needed."
STUC general secretary Grahame Smith said: "The climate emergency is the biggest threat facing society and targets to cut emissions are only as good as the policy decisions which are made to deliver them.
"We simply will not succeed if justice for workers and communities is not at the core of our approach."
Responding to the report, Climate Change Secretary Roseanna Cunningham said: "The actions required by 2045 will transform all sectors of our economy and society.
"As the pace of our transition increases, ensuring fairness will become ever more important.
"While the scale of the challenge posed is in no doubt, the commission's report is also clear – there are significant opportunities for Scotland."
She added: "I am grateful to the commission for the work they have undertaken to date.
"This will be invaluable as we prepare for the publication of the updated climate change plan, which will outline our plans to reduce emissions in line with our revised targets and start to demonstrate how the Scottish Government is placing a just transition at the heart of our transition to a net-zero economy."