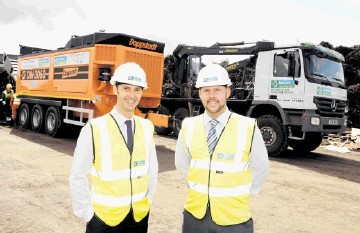 A north-east recycling firm is preparing to move into the Highlands due to the introduction of new food waste rules for Scottish businesses.
Keenan Recycling, which is based in New Deer, said it would target companies and the local authority in the north as part of plans to expand beyond Moray, Aberdeen and Aberdeenshire.
The firm, which collects waste from businesses and councils and turns it into compost, said its growth would be driven by Scottish Government legislation next year which will make it mandatory for companies to recycle food waste.
Managing director Grant Keenan, who set up the business 11 years ago with his brother Gregor, said the firm planned to establish plants in Inverness and Dundee in the coming years.
He said: "We want to roll out the service to Elgin, Inverness and Montrose because there are no companies in those areas who do what we do at the moment.
"In the Highlands there will be some exceptions to the legislation for households in rural areas, but businesses do not have anywhere they can take their food waste. We are trying to put lorries in the area, get our name about and start working the routes."
Keenan Recycling invested £1.3million in its New Deer headquarters last year, and Mr Keenan said he expected the firm to put in another £1million next year to meet demand.
"After that we will be looking to establish another two sites in Inverness and in Dundee, which would give us more capacity and create more jobs," he said, adding: "It means we can step outside Aberdeenshire and become a Scottish business."
Mr Keenan said he expected the firm, which has more than 200 commercial clients, to increase its workforce from 30 to more than 40 by the end of the year.
He predicted that Keenan Recycling, which processes up to 60,000 tonnes of waste per year, would turn over £2.5million this year and more in the years to come thanks to next year's legislation change.
He said: "We have always tried to anticipate future legislation and we expected there would be a drive to get food waste out of landfill, but we could not predict the extent of the Scottish Government's new regulations. This is the type of move we prayed for and it means we are swimming with the tide."