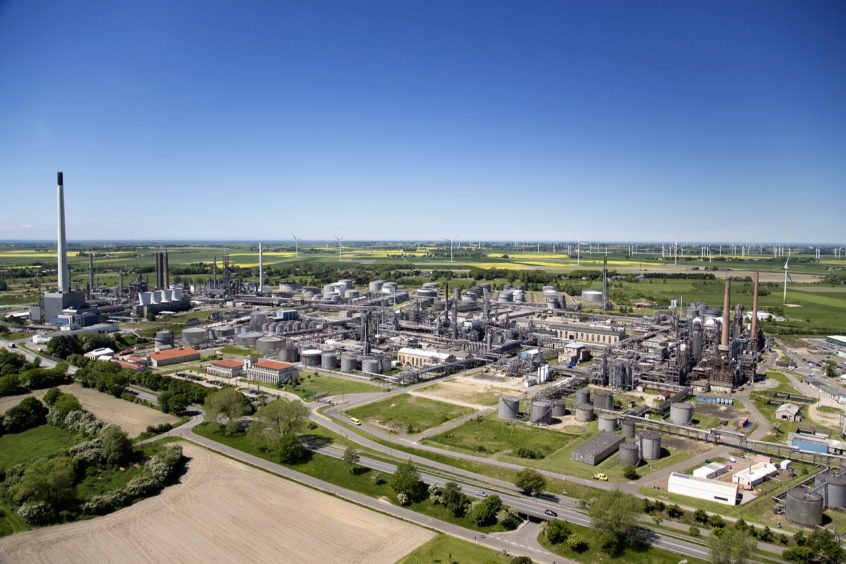 An oil refinery in northern Germany wants to turn excess wind power into green hydrogen to replace natural gas and produce synthetic fuels for aviation.
The 30 MW green hydrogen pilot project in Schleswig-Holstein  – Germany's northernmost state – could be scaled up to 700 MW by 2030 if it is considered commercially viable. The hydrogen would replace natural gas as feedstock to power the refinery's operations and could also be used to produce synthetic kerosene for aviation.
The project is developed by Raffinerie Heide and a number of partners including power companies Orsted and EDF as well as industrial company Thyssenkrupp. It was among 20 projects shortlisted by the German government last year, which enables it to apply for funding under a €100 million per year financing package. The project's final proposal was submitted to the government earlier this year and is now awaiting approval.
"We are waiting for feedback from the German ministry of economic affairs and energy, possibly by August this year. At this stage we can no longer be in direct contact with the ministry in relation to the proposal we've submitted, but we believe we are amongst the most attractive shortlisted projects," Jürgen Wollschläger, managing director of Raffinerie Heide, told Energy Voice.
Key to the project is to use excess electricity produced by wind farms in the area. Schleswig-Holstein has around 6.6 GW of installed wind power capacity, mostly onshore, and more capacity is being built both onshore and offshore. However, on windy days and on days with low demand, there is more electricity available than needed or more than the grid can absorb.
"There is plenty of access to green electricity in the area, mostly onshore wind. Last year, 40% of the electricity produced was curtailed, costing the German tax payer around €350m. The idea is that we would use that excess electricity to produce green hydrogen. For that reason we are hoping to be exempted from some of the taxes and levies usually imposed on end-users," said Wollschläger.
If developed at a large scale, the project would be capable of producing 100,000 tonnes of hydrogen per year.
Aviation fuels
In a related project , Raffinerie Heide plans to produce synthetic kerosene for aviation by combining hydrogen with CO2 captured from a neighbouring cement factory. The refinery is one of the main suppliers of aviation fuel to Hamburg Airport. According to the developers, the CO2 abatement potential for synthetic kerosene is ~70% when compared with the fossil fuel equivalent and on a life-cycle basis.
But the project will face many of the same challenges as other green hydrogen pioneers; high start-up costs and unproven technologies on a large scale.
"On its own, the 30 MW pilot project is not commercially attractive, however developing the technology is the bigger prize here. We need the subsidies to break even. The subsidies also cover the risk that the technology could be outdated by the time the pilot project is ready by around 2023. But our vision is to scale up to 700 MW by 2030. The estimated cost is €350bn based on today's prices," said Wollschläger.
Raffinerie Heide is not alone in developing green hydrogen in Germany, let alone North West Europe. Vattenfall and partners Arge Netz and MAN Energy Solutions are developing an industrial-scale power-to-gas plant in Brunsbüttel, also in Schleswig-Holstein, that could produce hydrogen and synthetic gas made from renewable energy. The facility plans to deliver green gas to fuel buses, trucks, ships as well as feedstock for the chemical industry in this area.
In Lingen in Lower Saxony, BP and Uniper are working on a 15 MW pilot project to convert renewable electricity to synthetic fuels and chemical and pharmaceutical sector products.
Another project is the 100 MW power-to-gas plant in Lower Saxony, being developed by Gasunie, Tennet and Thyssengas, with a pilot plant slated to come online in 2022. The facility – which was among the priority projects selected by the German government – is designed to collect offshore wind energy from the North Sea and distribute it as hydrogen or methane through the existing gas grid.