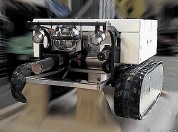 The North Sea could have reserves of a potentially valuable new fuel dubbed "fire ice" – which is tipped to become the world's next major energy resource.
UK Energy Minister Charles Hendry yesterday said the government believes it is "possible" that methane hydrates are present in the deep waters west of Shetland.
Experts estimate there is twice the amount of energy in the untouched global reserves of ice-trapped gas as the total for all other fossil fuels put together.
Experts in Japan believe fire ice could fuel the country for 300 years. And it is already ploughing huge sums into test drilling, with commercial production scheduled for 2016.
Asked about the estimated level of fire ice in the UK, Mr Hendry said: "The presence of methane hydrates in deep waters west of Shetland is possible, but has not been established. In the absence of any commercial technology for exploiting such resources, no estimate of reserves can be made at the present time."
Professor Bahman Tohidi, director of the Centre for Gas Hydrate Research at Heriot-Watt University, said: "For methane hydrate you need water depths of more than 1,640ft.
"The only place we have those water depths is west of Shetland. We haven't seen any hydrates yet but there could be some there.
"If there is a potential, it needs to be investigated.
"I would say there are chances of it being in UK waters, but even if there is nothing in the UK we should be developing the technology.
"It definitely will be a major industry. I always say it is far too big to be ignored – it's like the elephant sitting outside your doorstep and we can't ignore it. Sooner or later we will develop the technology." Fire ice is described as a sherbet-like substance consisting of methane trapped in water ice.
Initially thought to only be present in the outer solar system, the ice-trapped gas is now known to exist under Arctic permafrost and on some seabeds.
Fears have been raised that extracting the methane hydrates could carry major environmental risks linked to disrupting the seabed and causing a release of methane into the sea, which could accelerate climate change.
However, some scientists believe the fuel could help tackle global warming if technology is developed to replace the methane in the seabed with CO2, similar to the concept of carbon capture and storage.
A spokeswoman for industry body Oil and Gas UK said: "We're not aware of anyone investigating it in the UK but the volume of methane trapped in hydrates is believed to be very large worldwide."
Alex Kemp, renowned Aberdeen University professor of petroleum economics, said: "I haven't heard of it being present in any significant amounts in the UK continental shelf.
"In other countries, for example New Zealand, it is regarded as having a big potential. They think they have large amounts. There is the question of what technology to use to extract it. It's all very futuristic."
Recommended for you

Ocean Ranger: 40 years since oil and gas rig tragedy