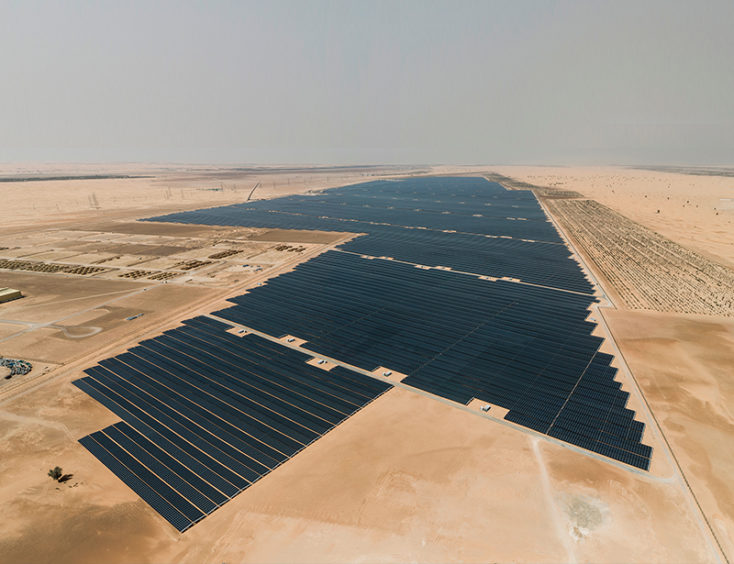 Dubai Electric and Water Authority (DEWA) has awarded the fifth phase of a solar park project to a consortium led by ACWA Power claiming a new record price.
The work will be carried out as part of a 900 MW phase at the Mohammed bin Rashid Al Maktoum Solar Park. The $570 million project was awarded at a tariff of $0.016953 per kWh.
The DEWA contract comes shortly after a project in Abu Dhabi was announced, priced at $0.0135 per kWh.
This fifth phase will bring the solar park to 2,863 MW, ACWA Power said, which will power 270,000 homes and offset 1.18mn tonnes per year of carbon emissions.
Current capacity at the park is 1,013 MW, with 1,850 MW under construction, from both photovoltaic and concentrated solar power (CSP) technologies. The plan is to reach 5,000 MW by 2030. "This supports our efforts to achieve the Dubai Clean Energy Strategy 2050, to provide 75% of Dubai's total power output from clean energy by 2050," said DEWA's CEO Saeed Mohammed Al Tayer.
The fifth phase is expected to be commissioned in phases, starting in the third quarter of 2021.
ACWA Power's chairman Mohammad Abunayyan said the group was a "reliable and trusted partner for DEWA's ambitious goals. The fifth phase will witness a prosperous collaboration with Gulf Investment Corporation (GIC) and Shanghai Electric which will undoubtedly mark a milestone in the renewable energy sector – not on a regional level only – but on an international scale."
DEWA will have a 60% stake in this fifth phase and be the sole offtaker, under a 25-year power purchase agreement (PPA).
The DEWA announcement comes just two days after Abu Dhabi Power Corp. said it had secured the lowest tariff for solar power in the world. ADPower said five bids for a 2 GW project in Abu Dhabi had seen a tariff of $0.0135 per kWh on a levelised electricity cost (LEC) basis.
This Al Dhafra project will be almost twice the size of the Noor Abu Dhabi solar plant, which started up in April 2019.
ADPower's Emirates Water and Electricity Company (EWEC) is working on a major shift towards clean power generation, said EWEC's CEO Othman Al Ali.
"The cost-competitiveness of the bids received is truly remarkable – positioning Abu Dhabi as one of the world's most attractive markets for solar energy development and reinforcing the economic benefits now achievable through renewable technologies," he said.
A PPA has not yet been signed on the Al Dhafra project, which is due to be delivered in the second quarter of 2022. Once the deal has been signed, Dubai's record-breaking claims may be officially declared over – for now.