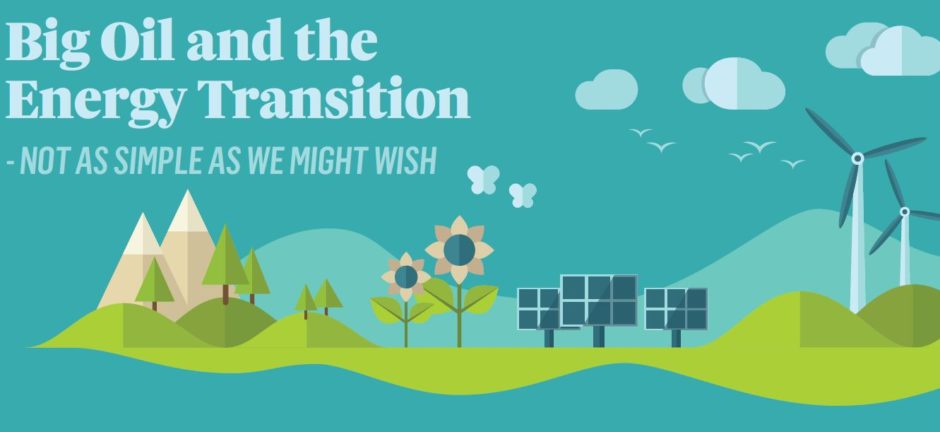 The energy world is riven by many contradictions that are making the climate change-driven transition to a low-carbon world difficult.
The situation has become more complex due to the Covid-19 pandemic depressing energy demand and an oil price war so vicious that, at one point, US producers were paying traders to cart surplus production away.
On April 20, WTI benchmark US crude for May delivery plummeted to minus $40. That same day, it was also reported that more than 100,000 clean energy jobs had evaporated in the US.
Prior to the crisis, complexities threatening to undermine the energy transition included the gaps between:
• The promise of energy for all and the fact that almost one billion people still do not have access to electricity.
• The latest evidence highlighting the need for ever more rapid cuts in global greenhouse gas emissions and the data showing that energy-related emissions hit another historic high in 2018.
• The expectations of fast, renewables-driven energy transitions and the reality of today's energy systems in which reliance on fossil fuels remains stubbornly high.
• The supposed calm in well-supplied oil markets and the lingering unease over geopolitical tensions and uncertainties even before Russia and Saudi Arabia went for one another's throats.
Each year about $1.8 trillion is invested in the energy sector, providing an important leading indicator of the way that the system is evolving, both on the supply and demand sides. Oil is the largest component.
Very little of that total is being invested in low-carbon energy.
Global spending on energy stabilised in 2018 after three years of decline, but a range of market, policy and geopolitical uncertainties could lead investment to fall short of what is needed to meet demand, to decarbonise and to provide energy access for all.
This would be particularly damaging in parts of the world that face the highest economic and financial constraints, notably in Africa.
Post Covid-19, rebooting that global economy will likely be done at the lowest possible cost. Clean and green will likely be forced on to the back burner despite the criticality of addressing climate change.
Of course, petrochemical products are everywhere and are integral to modern societies.
They include plastics, fertilisers, packaging, clothing, digital devices, medical equipment, detergents, tyres and many others. More than 6,000 products.
They are also found in many parts of the modern "low-carbon" energy system, including solar panels and wind turbine blades.
Big Oil is crucial to the development of green energy technologies in a way that goes largely unrecognised.
Pittance
But what is being invested in low carbon energy production?
Global annual investment in renewable energy peaked in 2017 at $326.3 billion, and in 2018 fell by 11.5% to $288.9 billion, according to Bloomberg New Energy Finance. It then fell 14% in the first half of 2019.Renewable energy investors have managed to finance the delivery of 1,000GW of electricity generating capacity since 2004.
Two vital pillars for that effort have been subsidy support and low costs of borrowing.
But both pillars are starting to crumble and may threaten the rapid acceleration required in generation capacity.
And it takes zero account of the need to find large-scale ways of producing sustainable, low carbon petrochemicals let alone fuel feedstock substitutes.
Therefore Big Oil is necessary for now and well into the future.
Huge appetite
Our appetite for oil and gas is staggering. Global oil consumption had until the turn of the year been running at about 100 million barrels per day.
Though stalling due to Covid-19, consumption continues to rise rapidly though the forecast is for demand to flatten by 2030.
The main driver was the US, accounting for almost 40% of global demand growth and more than 45% of the increase in production.
Natural gas has been used in homes since at least the 1st Century AD in Persia.
Thus natural gas has been the fuel of the past, is of the present and of course will be into the future.
In 2011, a World Energy Outlook (WEO) special report asked whether the world might be poised to enter a "Golden Age of Gas" based on assumptions about gas availability and price and policies on demand that could promote its use in certain countries, notably China.
At present, there is over 100 million barrels per day of refining capacity in operation or under construction, 40% of which is in North America and Europe and another 40% in developing countries in Asia and in the Middle East. Such infrastructure will need feeding.
Naturally, the role gas can play in reducing GHG emissions in the short run is being promoted. As coal-fired power generation is reduced in some markets, gas and renewables are filling that gap.
In 2018 the International Energy Agency (IEA) estimated
95 million tonnes of CO2 emissions were avoided due to coal-to-gas switching.
Mixed credentials
But be warned – gas has mixed credentials.
According to the IEA, the oil market looks broadly the same from anywhere in the world; the same is not true for natural gas.
Even as the market becomes more liquid and interconnected, high transport costs mean price levels can vary substantially between resource-rich, exporting regions and those that need to import.
The environmental credentials of gas also differ depending on the sector, country, geology and time frame being considered.
With the emergence of fracking, arguably much of the future growth of global gas and some oil production will be from this controversial source, especially in North America and, it seems, China.
Some of the most intense concerns are not directly climate-related, such as increased seismic activity damaging property and the impact on water supplies.
At present, fracking is either banned or impossible in much of Europe; in New York, California and Quebec in North America; and in some states of Australia.
In the UK there is a sort of a ban, but it's suspect, especially given the desperate economic plight that Britain is likely to be in post Covid-19 and post Brexit.
In places where energy transitions are relatively advanced, or where it already plays a large role in the energy mix, gas naturally becomes a target of decarbonisation policies that have been shaped by mounting environmental concern.
Societies worldwide are hungry for more energy. But, while some are clearly waking up to the need to slash fossil fuel consumption, other less well developed societies aspire to
Western high consumption lifestyles.
Big Oil has been proficient at delivering the fuels and feedstocks that form the bedrock of today's energy system.
The question is whether it can help deliver climate solutions.
This effort would be greatly enhanced if more oil companies were fully on board the low carbon revolution. But this massive industry has mostly paid lip-service and will likely use the pandemic as a reason to continue behaving in this way. However, the Big Oil landscape is diverse and there is no single strategic response that will make sense for all.
Attention often focuses on majors which have a lot of influence on industry practices and direction globally. But the overall industry is far larger.
The majors account for only 12% of oil and gas reserves, 15% of production and 10% of estimated emissions from industry operations.
National Oil Companies like Gazprom, Petrobras and Saudi Aramco – fully or majority-owned by national governments – account for well over half of global production and the lion's share of reserves.
There are some high performing NOCs, but many are regarded by analysts as poorly positioned to adapt to changes in global energy dynamics.
There is one notable half-way house called Equinor. This Norwegian parastatal is the
Big Oil world leader.However, and according to the IEA, investment by oil and gas companies outside their core business areas has been less than 1% of capex.
Some have moved into new areas by acquiring businesses in electricity distribution, electric vehicle charging and batteries, while stepping up research and development activity. Their massive balance sheets have helped enable this, at least until now.
Even allowing for today's extraordinary situation, a much more significant change in overall capital allocation will be required to accelerate energy transitions.
Soon, a wholesale commitment by oil companies to provide clean fuels to the world's consumers is critical to the prospects for reducing emissions.
The 20% share of electricity in global final consumption is growing, but electricity cannot carry energy transitions on its own against a backdrop of rising demand for energy services.
Emissions
Bringing down emissions from oil operations is a key step in helping countries achieve environmental gains from using less emissions-intensive fuels.
However, it is also vital for companies to step up investment in low-carbon hydrogen, biomethane and advanced biofuels, as these can deliver the energy system benefits of hydrocarbons without net carbon emissions.
Within 10 years, these low-carbon fuels would need to account for around 15% of overall investment in fuel supply.
The resources and skills of the industry can play a central role in helping to tackle emissions from some of the hardest-to-abate sectors.
This includes the development of carbon capture storage and utilisation (CCUS), low-carbon hydrogen, biofuels and offshore wind.
Scaling up these technologies and bringing down their costs will rely on large-scale engineering and project management capabilities, qualities that are a good match to those of large oil companies.
For CCUS, three-quarters of the CO2 captured today in large-scale facilities is from oil and gas operations, and the industry accounts for more than one-third of overall spending on CCUS projects.
If the industry can partner with governments and other stakeholders to create viable business models for large-scale investment, this could provide a major boost to deployment.
The oil and gas industry increasingly requires social acceptance of its projects to be able to build and operate facilities. Its "licence to operate".
In recent years, rising global emissions have intensified scrutiny of the industry, also on broader environmental grounds, especially in Europe and North America.
In the latter's case, that scrutiny has been roundly dismissed and hobbled by the Trump Administration. And if Trump gets back into the White House in the autumn, a further five years of opposition to anything that smacks of carbon reduction is pretty much guaranteed.
Money
There is heightened engagement by investors in listed oil companies on climate-related risks and restrictions in some areas on access to finance. All of this favours low carbon.
Key pressure points are:
• Capital/investor/insurance markets
Over the past decade, climate-related shareholder resolutions which commonly seek to improve disclosure or align the strategies of companies with a more sustainable pathway, have strongly increased.
More banks, pension funds, insurance companies, and institutional and private investors are limiting their exposure to certain types of fossil fuel projects.At the same time, there is growing attention being paid to sustainable finance.
• Opposition to new infrastructure projects
The result of this has been lengthy permitting procedures and litigation leading to project delays and cost overruns. In other cases, projects have been indefinitely postponed or cancelled. Infrastructure bottlenecks can create price discounts in local markets and serve as a major disincentive to new upstream investment.
Natural gas is typically more reliant on fixed grids than oil to reach consumers. In some jurisdictions such as the Netherlands, New York and California, climate concerns have led to bans or restrictions on connecting new consumers to the gas grid or expanding gas distribution infrastructure.
But the Trump Administration has nonetheless railroaded through at least one controversial trunk pipeline project.
It is so pro Big Oil that the industry can probably count on being significantly helped – overtly and covertly – to recover from damage inflicted by the pandemic and price crash, probably at the expense of the low carbon push in states such as California.
On the green plus side, in the UK, no new domestic gas heating connections will be
allowed beyond 2025, though cooking hobs will still be allowed. This therefore suggests that gas distribution infrastructure will have to be sustained long-term and, presumably therefore, production from the North Sea.
Conclusion
Though the investment environment for oil and gas projects is changing, the direction of change varies in different parts of the world.
But one common denominator is that this is becoming a game with slightly fewer players, and the ones that are left tend to be larger.
Securing investment remains a priority for many governments around the world who are still putting high carbon energy before low-carbon alternatives.
Also, recent reviews and changes of fiscal arrangements have the potential to shape investment activity in the years ahead.
This disparity between the still high carbon direction in which much of the world appears to be heading, on the one hand, and the growing body of scientific evidence highlighting the need for ever-more-rapid cuts in GHG emissions is a crucial fault line in global energy.
Something has to give, and the pressure to act more forcefully on emissions is growing, visible in a groundswell of opinion in many countries in favour of aligning policy and investment decisions with a low-emissions future.
Quite how this will shake out near to medium term will become hotly debated. Governments may take the high-carbon route to economic recovery, making the excuse that this will be a temporary measure.
Others think Covid-19 presents the ideal opportunity for low-carbon to win the day. For sure, headline- grabbing crusaders like young Greta Thunberg will be fighting tooth and nail against the Establishment wherever it may exist to achieve this, and that includes Big Oil.
There is one absolute certainty in all of this and it is that the road back to a more sustainable world and navigating the transition will be nothing like as simple as we would wish, not with nearly 8bn humans on the planet.
Recommended for you

Pushing for policy is key for net zero future