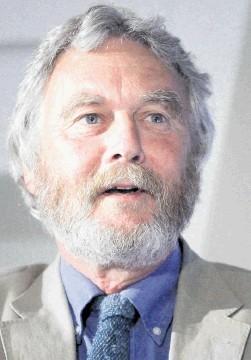 The leader of Highland Council has rejected claims the local authority takes a chunk of community benefit from windfarm development.
Councillor Michael Foxley said the council take "nothing at all" from the community benefit given on a voluntary basis by windfarm developers.
Inverness South councillor Jim Crawford said previously the council would take 45% of community benefit from windfarm companies
Mr Foxley also said that a conference on wind energy at the Centre for Health Science in Inverness next week is not a wish-list launch pad.
He said: "It's not a wish list, it's a way to get serious sums of money into the local community. Highland Council takes nothing."
He said that, as agreed by the council in December, community benefit for future windfarm developments will be split with 55% going to the local community, 30% to the surrounding area and 15% to a Highland-wide fund, which communities can bid into.
He added: "We think it's a fairer spread. It's not going to the council, it's all about the communities directly benefiting whether that is the city of Inverness or the community of Caithness."
Councillor Crawford said: "It's an opt-in or opt-out position. Highland Council have said that if the community want help with negotiation with developers, what they will do is take 45% of the benefits to distribute to communities throughout the Highlands.
He said the council getting involved with negotiations with the windfarms over money was leading to a public perception that they would allow the windfarms to get the money.
He added: "The planning committee should stay separate from any decision on windfarm benefit."
Dr Foxley claimed there was never an issue with community councils not being invited to the conference on February 24, but Vivian Roden, of Strath-dearn Community Council, disagreed. She said: "I don't want to make a big deal out of it because we are getting to go but there was clearly an issue with communities not being invited."
Charles Stephen, ward manager for Aird, Loch Ness and Inverness South, told Strathdearn Community Council in an e-mail earlier this month: "The conference is really for public agencies, landowners and developers."
At the weekend, the council opened up the invitations to include 20 places for community councils, limited to one per council, on a first-come first-served basis.