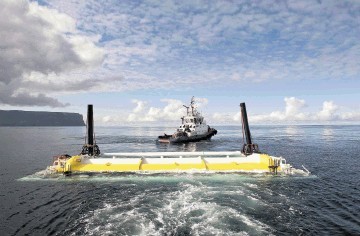 Scotland's first near-shore commercial marine power development off the coast of Orkney has been approved.
Energy Minister Fergus Ewing has granted permission for two new Oyster wave energy converters to be added to an existing device at the European Marine Energy Centre (EMEC) at Billia Croo, Stromness.
This will allow operators Aquamarine Power to test the devices and generate 2.4MW of green energy.
Mr Ewing said: "I am delighted to grant consent to these two new Oyster devices, the first near-shore wave array in Scotland to feed in to the national grid.
"This array will supply more than 1,000 homes with clean energy, and should the demonstrator be successful the technology being developed here will power hundreds of thousands more homes in future."
The Scottish Government has set a target to generate 100% of electricity by renewables by 2020.
Aquamarine Power chief executive Martin McAdam described the announcement as "great news.
"It paves the way for us to continue working with Marine Scotland to further streamline the consents process and gain all the necessary consents for our 200MW commercial wave energy site in Orkney and our 40MW site on Lewis."
Aquamarine Energy has, to date, been responsible for providing work for 40 firms in Orkney and pumping £3million into the local economy.
A study commissioned by the Edinburgh-based renewables company has estimated a 200MW wave farm would generate almost £300million of additional economic activity in Scotland and create 8,503 jobs.
Orkney MSP Liam McArthur said he hoped the project would add weight to the case for a fairer transmission charges system to make renewable energy more cost-effective.
Dan Barlow, of environmental group WWF Scotland, said the Orkney project represented an "exciting step forward" for the marine energy industry. Scotland is well ahead of the game in developing wave power and this technology has the potential to be of global significance in our efforts to tackle climate change and offers huge export benefits for Scotland too," he added.
Ian Johnstone, chairman of Orkney Islands Council's development and regeneration committee, said: "We are pleased to see consent being issued for this project.
"It's the first step towards commercialisation of the research and development work being carried out at EMEC and will help generate a range of benefits in terms of jobs and facilities for local people."
Recommended for you

Marriage plans for wave energy and offshore wind in Scotland