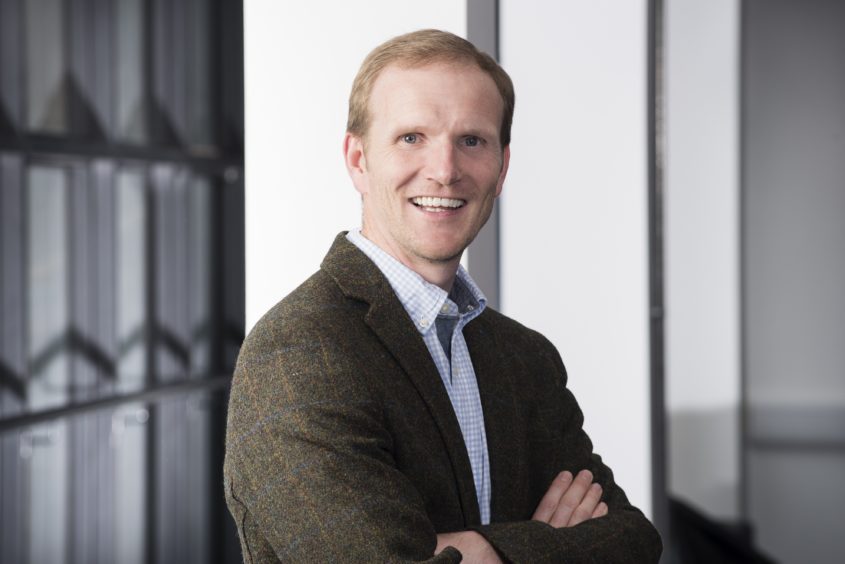 One of Scotland's top economists has said the Covid-19 crisis may usher in a "window of opportunity" to support the north-east energy transition.
Helping Aberdeen evolve from the oil and gas capital of Europe to become the continent's energy capital is "really challenging" but can be supported by a greater focus on "green" investments in response to the pandemic, Graeme Roy, director of Strathclyde University's Fraser of Allander Institute added.
Speaking during a Planning for Recovery webinar, hosted by professional services firm Deloitte, Professor Roy also said economic recovery north of the border was likely to be "gradual".
The economic impact of Covid-19 has dwarfed anything seen in the financial crisis and is likely to mean a 10-12% drop in Scottish gross domestic product this year, although the "underlying structure" of the country's financial health remains relatively undamaged, he said.
But he warned Scotland may be "disproportionately affected", compared with the rest of the UK, because of its greater reliance on the oil and gas and tourism industries.
Outlining the prospects for either a V-shaped, "Nike swoosh" or "bathtub" recovery (characterised by a flatlining of activity), he said any hope of the first of these – involving a quick rebound – had already gone.
"We are very much into a period where there is likely to be a gradual recovery," he said, adding: "There are some big issues about how businesses can restart and at what scale, and also questions about economic infrastructure and how supply chains can be linked to make sure everything, when it is switched on, is in the right place."
There is also going to be a "significant adjustment" as households look to repair their finances, he said.
He added: "It is an opportunity for us to take stock as we rebuild and reflect not just on what we need to do in the recovery and what we need to do to respond to the particular challenges we have faced, but also to reflect on the model we had before to see where we can potentially make changes to become a more resilient and successful economy.
"It is a challenging environment and getting through the next few months as safely and securely as possible is going to be the top priority.
"But thinking about the long-term opportunities is also going to be an important part of building the recovery."
There is a "very long list of green investment" that can help to get the country back on its feet, Professor Roy said.
He added: "There is a really challenging position in the oil and gas industry impacting on Aberdeen and the north-east only five years after the last crisis.
"But there is also a window of opportunity to help support that part of our economy move from being the oil and gas capital of Europe to being the energy capital of Europe. It's where these investments become really important."
Attempting to predict what lies ahead for the UK economy as a whole, Stephen Williams, senior partner for Deloitte in Scotland, said: "There is no doubt that government impact in the future is likely to be significantly higher.
"This will be very important in terms of the level of regulation we can expect around corporate conduct. We are also likely to see increases in the taxation take in all kinds of ways."
Levels of debt for households and businesses will be "significantly higher at the end of this", he said, adding this will "inevitably" lead to reduced investment by companies paying off their loans.
Mr Williams said there was also likely to be an increase in mergers and acquisitions activity as firms look to "focus strategically on where they can make money".
Many company bosses have been "amazed" by how well the change to homeworking has turned out, he said, adding: "Video conferencing into each others homes, offices, kitchens has never been considered before but has become the way we work."