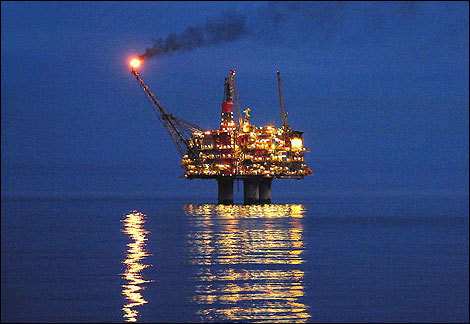 The chief executives of 12 major oil and gas firms have written an open letter saying the Covid-19 pandemic won't delay climate action but has instead "sharpened" the focus on it.
Top bosses of BP, Shell, Chevron, CNPC, Eni, Equinor, ExxonMobil, Occidental, Petrobras, Repsol, Saudi Aramco and Total signed the letter on behalf of the Oil and Gas Climate Initiative (OGCI).
It states they have "heard concerns" the pandemic may push oil firms to delay climate action, but insisted the reality is it has instead "crystallised" their focus on the environment.
Several major oil firms including BP, Shell and Total have announced net zero emissions goals for 2050, although campaigners have been sceptical about their ability to meet those targets.
It comes as the virus has wiped out fuel demand, deferred or cancelled offshore spending, and led to warnings that some oil finds may be left untouched as they are no longer commercial.
The letter said: "As all eyes look for the most effective approaches to emerge from this crisis, you can count on us to do our part.
"We will continue to work with others to support economic recovery and to transition to a healthier, lower-carbon future.
"Our immediate priority, as CEOs, is to do everything we can so that our people and communities are safe and capable of confronting the pandemic effectively.
"We have heard concerns that this crisis may push oil and gas companies – and governments around the world – to delay climate action.
"The reality is that rather than shifting our priorities, the Covid-19 crisis is further crystallising our focus on what is essential: health, safety and protection of the environment while providing the energy and vital products that society needs to support economic recovery."
The OGCI, set up in 2014, is aimed at acting collectively in combating climate challenge and accelerate its global response.
The group reiterated its own goals, which include reducing emissions within its own companies, investing in and scaling-up low-carbon solutions, and supporting governments toward energy transitions.
Its $1billion-plus OGCI Climate Investments fund, nearly doubled the number of investments in clean technologies over 2019.
In September, the organisation announced a series of new initiatives to help meet the Paris climate goals.