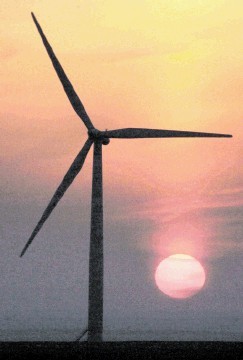 THE Ministry of Defence is waging war against green-energy schemes in rural Buchan.
Military radar experts fear the number of wind turbines being built in the north-east countryside could cause havoc with vital surveillance systems.
They also argue that clusters of turbines cause "unacceptable" interference to equipment at RAF Buchan, south of Peterhead.
The MoD's property arm, the Defence Infrastructure Organisation, is now battling to block plans for dozens of masts earmarked for land surrounding the Stirlinghill air station.
In formal objections lodged against each proposal, the organisation states an overabundance of turbines can lead to false aircraft readings and make it impossible to provide a full surveillance service.
Now, three new turbine applications are facing rejection by Aberdeenshire councillors, based solely on complaints by the MoD.
The latest proposals, which planning officers have recommended for refusal, include an application for a single 90ft mast at Honeyneuk Farm, near Maud.
Farmer James Muir, who is behind the scheme, said: "I'm not going to get too worried about what the Ministry of Defence is saying. I'm sure they can work out a way to get round this themselves.
"People don't realise how important these turbines are for farms like ours and also how important they are for the environment.
"They should be encouraged, rather than anything else."
Plans for a twin-turbine project at Craigshowdie, Ardallie, and a 130ft mast at Yonderton Farm, Hatton, are also facing rejection.
All three will be brought before members of the Buchan area committee on Tuesday.
Earlier this month, local councillors approved three similar developments near Longside, despite MoD objections.
Dairy farmer Colin Mair, who put in a bid to build two masts at Monyruy, said the MoD had originally supported his plan.
"But six months later they lodged an objection," he said. "I find this very unfair."
Alex Fowlie, who applied to put up a 260ft mast at Gallows Hill, said the MoD had objected, "despite the fact they had given it the all-clear the year before".
The Buchan area committee agreed unanimously to pass the proposals, but raised concerns about the possible impact on the RAF radar.
Councillor Robert Thomas said: "We can't keep overriding the MoD's objections. At some point we are going to have to stop."
Fellow councillor Norman Smith called for a meeting with representatives of the MoD to discuss the issue.
Similar objections have been raised against plans for a 12-turbine windfarm scheme at Mormond Hill.
The proposed windfarm at the Buchan landmark has divided locals.
Aberdeenshire Council has received more than 400 letters and e-mails about the plan, although the number submitted by supporters outweighs those lodged by opponents.