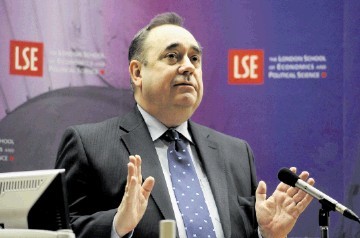 An independent Scotland could build up a £30billion investment fund on the back of renewable energy, Alex Salmond claimed last night.
In a speech at the London School of Economics, he said if Scotland had full fiscal control since 1979 it could have established a fund – similar to that in Norway – worth anything from £87billion to £117billion from North Sea oil and gas.
The first minister's speech was the third he has given in the past month to persuade audiences south of the border on the "merits" of independence.
Last night he said renewables would be the source of Scotland's "re-industrialisation" and Scottish waters held a further 40 years' worth of oil and gas.
"The debate about independence is about looking forward and creating a better future for Scotland," Mr Salmond said. "With that future in mind, we still have an opportunity to establish an energy fund to benefit future generations.
"Even just £1billion a year – less than 10% – invested over 20 years, would create a fund for Scotland worth almost £30billion.
"An independent Scotland would pursue policies of ambition and responsibility. We would use Scotland's natural resources and skilled workforce to build a sustainable economy." He cited research by think-tank Reform Scotland that suggested Scotland could export half the electricity generated by 2020 because of the Scottish Government's renewable energy targets.
He said: "Reform Scotland estimates that as a result of our renewable electricity target Scotland would export half the electricity generated by 2020 – increasing Scottish exports by £2billion a year, equivalent to around 17% of Scottish manufacturing exports to the rest of the UK."