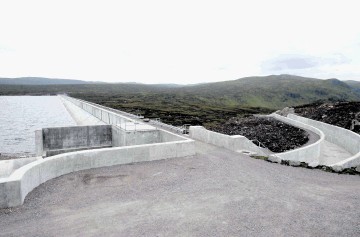 Power company SSE has applied to build Scotland's largest hydro electric scheme – including the country's largest dam – in the Great Glen.
The company lodged a planning application with the Scottish Government earlier this week for the £800million scheme, at Loch Lochy, near Glengarry.
If approved the Loch a' choire ghlais development would take five years to build and create about 150 jobs.
It would generate up to 600MW, using a pumped storage scheme model. A new dam would be built in a glen above Loch Lochy to release the water into an outlet in the loch. The proposed crest length of the dam is more than 2,100ft and sits 300ft above sea level, which would make it the largest in Scotland.
If the plan gets the go-ahead, Loch a' choire ghlais will be the first pumped storage hydro scheme to be built in 40 years.
Jim Smith, managing director of SSE Renewables, said: "Hydro electric schemes, which use impounded water to generate electricity, are an excellent means of energy storage.
"As the UK's leading generator of renewable energy, SSE is proud to be at the forefront of developing renewables and helping tackle climate change."
A notice will be sent to neighbouring residents today welcoming their feedback as part of the consultation process.
Highland Council will also be asked for input into the application, which will ultimately be decided on by Scottish Government officials.
Glengarry Community Council chairman Peter Walker confirmed that representatives from SSE had visited the council and made a presentation outlining the development.
He said: "In terms of support, we've not decided one way or another. We will probably discuss it at the next meeting on March 5.
"It's good if there will be a jobs boost. There's bound to be a bit of disruption with a development on that scale, but that's the way these things go. As long as it doesn't end up like Glendoe."
SSE's Glendoe hydro power station was closed in 2009 just weeks after being officially opened by the Queen. The closure was blamed on rockfall which blocked the main tunnel carrying water to the turbines. SSE announced earlier this month they expect power generation to resume in the spring.