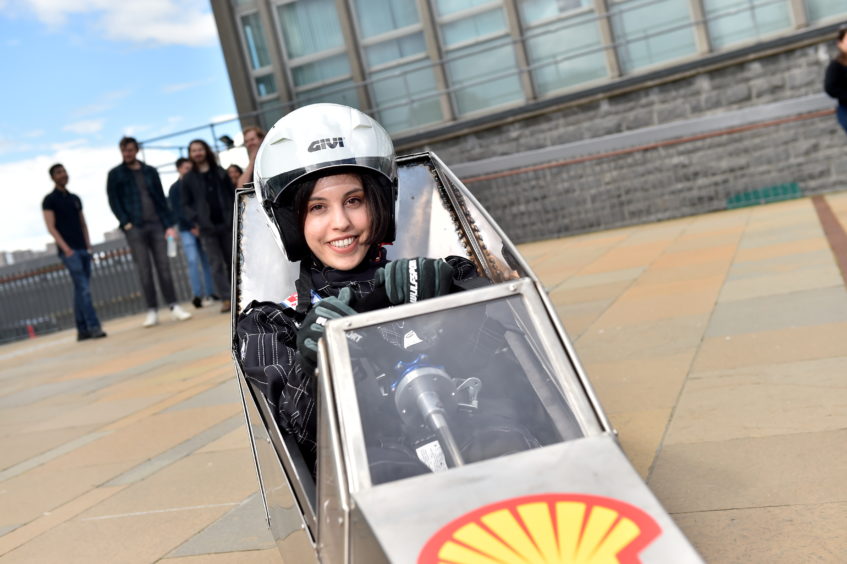 Scotland's Shell-backed Eco-Marathon teams have vowed to come back even stronger next year after the Covid-19 pandemic resulted in the cancellation of 2020 track events.
Teams from Aberdeen and Strathclyde University in Glasgow had planned to take part in the Shell event next month, planned at Brooklands Race Track, but will instead focus their attention on updating their design for the next competition, post-coronavirus.
The Eco-marathon challenges students to design, build and test energy-efficient cars, before taking their designs to the track to see which vehicle can go furthest on the least amount of fuel.
The 40-strong PrototAU team, which consists of engineering and business students, have built a car using a fuel cell donated by Ballard, a Canadian company specialising in the development of fuel cell technologies.
The team has also won support from Vattenfall, RS Components, Toyota, Aberdeen City Council, Swagelok Scotland, and Aberdeen-based subsea engineering firm EC-OG.
Adam Din, team captain of Aberdeen Eco-Marathon team, PrototAU, said: "Our first year competing well exceeded our own expectations, looking back at the great memories from 2019 with the team winning an off-track award and getting to know the Strathclyde University USEV team were highlights for us.
"Moving forward into 2019/2020 season, the new team had big plans. We aimed to design and build a new prototype vehicle as we had learned from our first year competing that the previous model could be improved in almost every area, the focus of the design was mass reduction and increased performance.
"As the COVID-19 situation escalated, we were just beginning the manufacturing of our mechanical components which we planned to do all within the university facilities."
In 2019, Aberdeen University's team scooped the best newcomer award, despite being first-time competitors at the Shell Eco-marathon in London.
While Strathclyde University's team finished in 34th place overall in the battery electric prototype category, the best placed UK university, in only their second competitive year.
Ciaran Duguid, of Strathclyde Eco-Marathon team, added: "With everything happening in the world right not it is hard to know what the coming year will bring, but the team spirit has always brought out the best in us, even when things don't seem to be going our way.  We were proud to be the best placed UK University in our battery electric category at last year's competition.
"With a team full of bright engineers, passion for the project and a plethora of exciting designs for our electric proto-type car not yet implemented, there is no doubt that our ambition will keep us driven for future participation in this competition and for many of us we hope to play a part in the future  development of electric vehicles.
"Seeing both USEV and ProtoTAU achieve what we have as young members of the Shell Eco-Marathon, against all odds, serves as a testament to our strength as groups, with a shared vision of success."