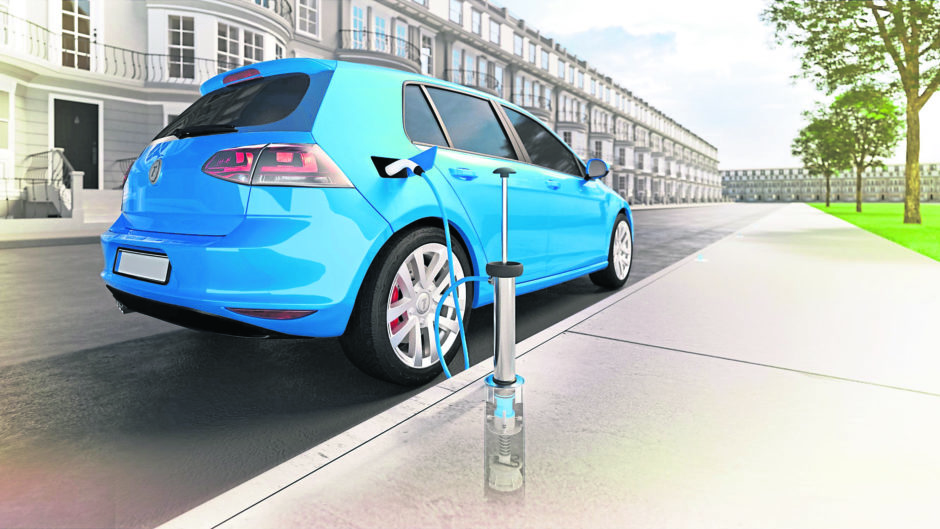 A north-east subsea engineer is quitting the oil and gas industry to focus on a fledgling business aiming to roll out innovative electric vehicle (EV) charging points across the UK.
Trojan Energy is run from the home of its chief executive, Ian Mackenzie, in Stonehaven.
It has just secured £4.1 million of seed funding to support the roll-out of its "on-street flat and flush" EV charging points. The new product aims to help solve the issue of charging for vehicle owners without access to off-street parking.
According to Trojan, about 10 million people in the UK and 100 million around Europe park on the street, and encouraging them to switch to EV could cut CO2 emissions by more than 120m tonnes per year.
Trojan's charging points are flat and flush to the pavement, ending the need to sacrifice pedestrian space. Users carry a charging "lance" in their vehicles and plug it into the connector point to start charging.
"I've always been interested in future technology and saw the energy transition coming," said Mr Mackenzie, who hails from Tain.
He plans to work for French energy giant Total for six more months before going full-time with Trojan, which he founded with three silent partners in 2016.
Trojan's funding comprises a £1m investment led by business angel syndicate Equity Gap, profit with purpose investor SIS Ventures, Aberdeen-based investment syndicate Alba Equity and the Scottish Investment Bank (SIB), the investment arm of Scottish Enterprise.
The equity funding unlocks a further £3.1m from Innovate UK, the UK Government-backed innovation agency.
Trojan can now progress testing and certification of its product, with a view to installing the first 200 units in London by early 2021.
The company also plans to launch a driveway version for homeowners, eliminating the need for posts or wall boxes to charge at home.
SIB director Kerry Sharp said: "It's been suggested that over half of European car owners will be driving electric vehicles by the end of the decade, so developing an innovative, non-invasive and cost-effective solution to the problem posed by on-street charging is essential.
"By drawing on years of engineering and commercial experience, we believe the Trojan Energy team can achieve that."