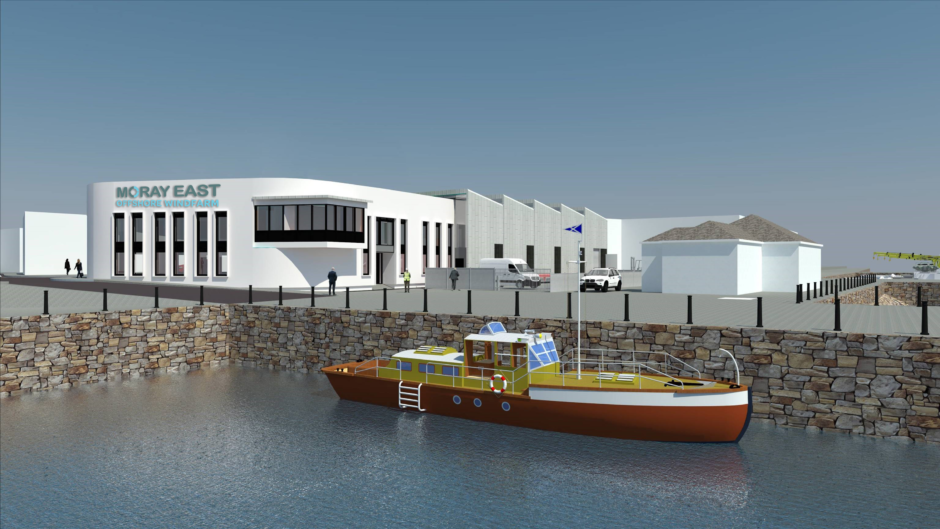 Construction has begun on a new facility at Fraserburgh Harbour that will service a giant offshore wind farm.
About 100 jobs will be created at the site, which will become a "focal point" for the 100-turbine Moray East Offshore Wind Farm.
The multimillion-pound deal was described last night as a "significant win" for Fraserburgh.
The 20,000sq ft development will include a marine coordinaton centre, control room, berthing space for wind farm support vessels, a pontoon for cargo and crew transport, workshops, offices, storage and parking for up to 40 staff vehicles.
It will be the centre of operations and mainteance (O&M) for the wind farm throughout its planned 25-year life.
Michael Murray, convenor for Fraserburgh Harbour board, said: "We were delighted to anchor Moray East's O&M base at the port.
"This was a significant win for the town bringing additional jobs and investment to Fraserburgh.
"We have built a great working relationship with Moray East which we hope serves as a solid foundation for future projects."
Moray East Offshore Wind Farm, due to be operational in 2022, will generate enough energy to power around 950,000 homes in Scotland.
It was awarded a 15-year contract to generate power by the UK's Department for Business, Energy & Industrial Strategy (BEIS) in 2017.
The 950MW wind farm is being developed by Moray Offshore Windfarm East Ltd (MOWEL), which is a joint venture company owned by Diamond Green Limited, EDPR, ENGIE and CTG.
Moray East project director Marcel Sunier said: "Despite the challenges of current circumstances, I am delighted to announce that construction is commencing to enable
"Moray East, a project designated as essential within the critical energy sector, to proceed, enabling us to bring much needed, low-cost, low-carbon electricity on-stream as expected, to support the UK's economic recovery.
"We have a long history of positive engagement in Aberdeenshire and in Scotland and, particularly at this difficult economic period, I am particularly pleased that, from conception, through design, construction and ultimately to furnishing and completion, the Scottish supply chain features so strongly in this part of the project.
"Any power station requires a focal point from which it will be operated and maintained throughout its life.
"Moray East is no different, but with its generating infrastructure more than 15 miles from the shore, it needs an on-shore hub for its offshore assets and Fraserburgh will be that focal point."
Recommended for you

Ocean Winds throws backing behind Cromarty Firth green freeport bid