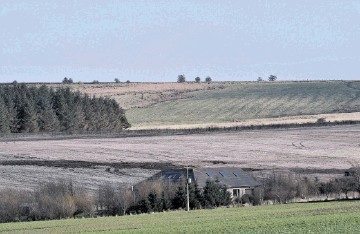 Plans have emerged for a major windfarm in the north-east countryside.
Green energy firm PNE Wind UK is drawing up proposals for a 12-turbine development near Hatton, south of Peterhead.
The masts, which will generate enough electricity to power thousands of homes, are earmarked for acres of farming land at Hill of Braco.
Members of a liaison group formed by Edinburgh-based PNE Wind have presented draft proposals to local community councillors.
A wider public consultation will take place in the coming months and the company's application for planning permission is likely to be lodged with Aberdeenshire Council towards the end of the year.
Although the scheme is at an early stage, the company envisions a dozen turbines with heights of around 410ft.
A spokesman for the firm added: "At this stage, we do not yet have a fixed turbine type. Changes will be made as we progress towards planning submission.
"The number and type of turbines will be informed by our detailed site assessments and through consultation with local communities, Aberdeenshire Council and our community liaison group."
If the project goes to plan, the turbines could be up and running before the end of 2014.
The plans come nearly a year after proposals were unveiled for another 12-turbine windfarm in the north-east.
Turriff-based Muirden Energy wants to instal a series of masts on the slopes of Mormond Hill, near Strichen.
The scheme, which has divided locals, is being considered by planning officers and is expected to be brought before local councillors in the coming months.
Earlier this year, the Press and Journal revealed that the Ministry of Defence was calling for a moratorium on all turbine applications in parts of rural Buchan.
They have lodged objections against nearly 30 proposals – including Muirden's – claiming too many turbines could cause significant interference to radar equipment at RAF Buchan, near Boddam.
All wind turbine plans have been put on hold until councillors get the chance to discuss the problem with MoD officials.