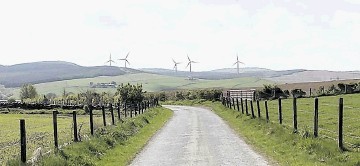 Plans for a £20million windfarm near Huntly will be submitted to Aberdeenshire Council this summer following meetings with residents.
The proposed five-turbine scheme at Meikleton Farm, between Huntly and Keith, is part of a £1billion investment in green energy projects across Scotland.
The firm behind the plans – Dunfermline-based developer Burcote Wind – said almost 600 jobs could be created by the developments across the country.
Company director Alex Bruce said the Meikleton windfarm was one of the smaller of 10 schemes in the pipeline and would not create a large number of posts – but the firm has pledged to use local firms in the construction phase.
The windfarm would also provide nearly £1.125million over its 25-year lifetime towards a community fund, the director said. "We need to allow time for the completion of various technical surveys before putting in the planning application and will be holding further public consultation sessions in the community to update people on the scheme before then," he added.
A meeting of the community liaison group – which takes in representatives from community councils and other groups along with Huntly Development Trust – is planned to take place later this month.
Last year Burcote held two public exhibition sessions at Cairnie and at Huntly.
The events attracted 65 people with more than 70% backing the project.
Residents were told the 410ft structures would provide £45,000 a year to a community trust, cash that could benefit a range of local causes and projects.
The Meikleton windfarm is proposed on a secluded rural site in a natural hollow in the hills.
The location has been found to have sustained power from prevailing winds while making a minimal impact on the landscape near the valley of the River Deveron.
Yesterday, Burcote chairman Graham Brown said the 10 windfarms planned would represent a total investment of £1.08billion and potentially reduce carbon emissions by more than a million tonnes a year.
Burcote is carrying out consultations on three other sites at Creggan in Argyll and Bute, and at Sandy Knowe and Benshinnie, which are in Dumfries and Galloway. Planning applications for these will be submitted within the next 18 months, while the six other planned windfarm sites are in the early stages of environmental and technical appraisal by the firm and their locations are being kept under wraps.