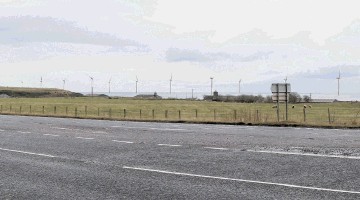 Donald Trump is calling for the windfarm planned for Aberdeen Bay to be moved 30 miles north.
The US billionaire does not want the turbines to be built near Menie Estate, where he has just completed "the greatest golf course in the world".
Work to build both a temporary and a permanent clubhouse are ongoing and he wants to bring major tournaments such as the Ryder Cup and The Open to Aberdeenshire.
However, Mr Trump is reviewing future investment worth hundreds of millions of pounds because he fears the European Offshore Wind Deployment Centre (EOWDC) will destroy his sea view.
Last night, his head of development, George Sorial, suggested that St Fergus, near Peterhead – home to one of Europe's biggest gas terminals – would be a better location for the windfarm.
"Constructing unsightly turbines off a beautiful coastline or pristine countryside is nothing short of asinine and future generations will suffer the irreversible consequences," he said. "There is no turning back.
"A rational government would be more organised about its plans to expand industrial zones and put more thought into the proposed locations.
"I don't think anyone would mind if the EOWDC was placed next to St Fergus."
However, EOWDC project spokesman David Rodger said the location had been selected carefully after years of consultation.
Mr Trump will appear before MSPs at the Scottish Parliament next month as he steps up his fight to block the EOWDC – and other wind energy projects being planned across the country.
He is ready to invest millions of pounds in the anti-windfarm lobby to help his cause.
The developer recently accused Alex Salmond of destroying Scotland with wind turbines.
In a letter to the Aberdeenshire East MSP, Mr Trump warned that other countries were laughing at the government's "insane" proposals.
He said: "You seem hell bent on destroying Scotland's coastline and therefore Scotland itself – but I will never be 'on board', as you have stated I would be, with this insanity.
"As a matter of fact, I have authorised my staff to allocate a substantial amount of money to launch an international campaign to fight your plan to surround Scotland's coast with many thousands of wind turbines."
Within days, the Trump Organisation revealed it was financially supporting Communities Against Turbines Scotland, an anti-windfarm group.