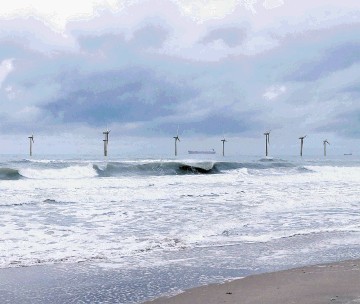 THIS will be the new view of the North Sea if controversial plans for a windfarm near Aberdeen get the go-ahead from the Scottish Government.
Energy firms behind the 11-turbine scheme have released new images to show how they will look from across the city and shire following several verbal attacks by Donald Trump. The project has provoked a furious response from the US property developer, who has accused First Minister Alex Salmond of being "hell bent" on destroying Scotland with the structures.
The Press and Journal can reveal today how the development near Aberdeen Bay would look from different parts of the region.
Pictured above is an impression of how the turbines would appear from Balmedie Beach, a little over a mile south of Mr Trump's championship golf course.
Other new images show how the windfarm will be visible from as far away as Kingswells and Newburgh.
The European Offshore Wind Deployment Centre (EOWDC) is a £200million joint venture by utility company Vattenfall, engineering firm Technip and Aberdeen Renewable Energy Group (Areg).
It will test new technology for the growing wind energy market and – according to a recent UK Government report – could help generate up to £4billion for the British economy.
Last night, project spokesman David Rodger said he wanted people to make up their own minds about the project.
"We acknowledge the recent publicity surrounding the EOWDC proposal," he said.
"The exchange of views for those for and against the proposal is important and helps people to understand the arguments and to reach their own conclusions.
"The location of the EOWDC has been carefully chosen by project partners with input from a range of aviation and marine stakeholders and following over six years of investigation, public engagement and analysis.
"The project partners submitted a planning application to Marine Scotland last August and we expect a decision by the Scottish Government later this year.
"The channels of communication with the Trump Organisation remain open and we hope a constructive dialogue can continue."
He added: "The EOWDC is widely supported by industry because it is recognised to be the kind of facility needed to unlock Scotland's and the UK's offshore wind potential."
The Trump Organisation launched a fresh attack on the scheme last night, calling for its relocation farther up the coast near Peterhead.
However, Morag McCorkindale, chief operating officer of Areg, said the project – where it was currently proposed – was of huge importance to the north-east and Scotland.
"The North Sea has long been of huge importance to the region's prosperity – from fishing, shipbuilding and maritime trade to the massively important energy industry of today," she said.
"In order to safeguard the long-term sustainability of our economy, we must continue to find a way of making a living from the sea to ensure the region remains an internationally competitive economic powerhouse.
"As Europe's energy capital, the region is home to more than 40 years of world-class upstream oil and gas expertise, much of which is directly transferable to maritime renewables."