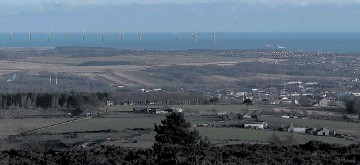 The first minister risks becoming known as "Mad Alex – the man who destroyed Scotland", Donald Trump claimed yesterday.
The outspoken businessman launched a fresh attack on SNP leader Alex Salmond over the Scottish Government's passion for renewable energy.
Mr Trump, who is campaigning against the proliferation of on and offshore windfarms, reiterated his claim that an independent Scotland risked going "broke" because it could not afford the huge subsidies needed to fund them.
His remarks were made just hours after the Press and Journal published photographs showing how a proposed windfarm in Aberdeen Bay – close to the tycoon's golf resort at Balmedie – would look from various viewpoints.
In his latest letter to the first minister, Mr Trump, who will give evidence to a Holyrood committee next month, said the drive to build more wind turbines would ruin the environment and end any chance of Scotland becoming independent.
He wrote: "Do you want to be known for centuries to come as 'Mad Alex – the man who destroyed Scotland'?
"Remember what I said – if you pursue this craziness Scotland will go broke and forever lose whatever chance you currently have of making Scotland independent. A bankrupt Scotland will always be reliant on others."
Mr Trump urged the Aberdeenshire East MSP to "be smart" and abandon wind power.
He wrote: "History has shown that the world's greatest leaders were the ones that were able to change their minds through knowledge. Be one of them."
Liberal Democrat leader Willie Rennie said the businessman should not be allowed to bully Scotland against meeting climate change obligations and renewable energy ambitions.
"I don't normally rally to the defence of Alex Salmond but when old friends turn nasty I feel the need to step in," he added.
The Scottish Government said it had a "responsibility to ensure the country seized the opportunity to create tens of thousands of new jobs" through green energy developments.
Mr Trump has vowed to spend at least £10million to stop the spread of windfarms in the country – and take the Scottish Government to court if it approves the Aberdeen Bay proposal for 11 turbines, each 639ft high.