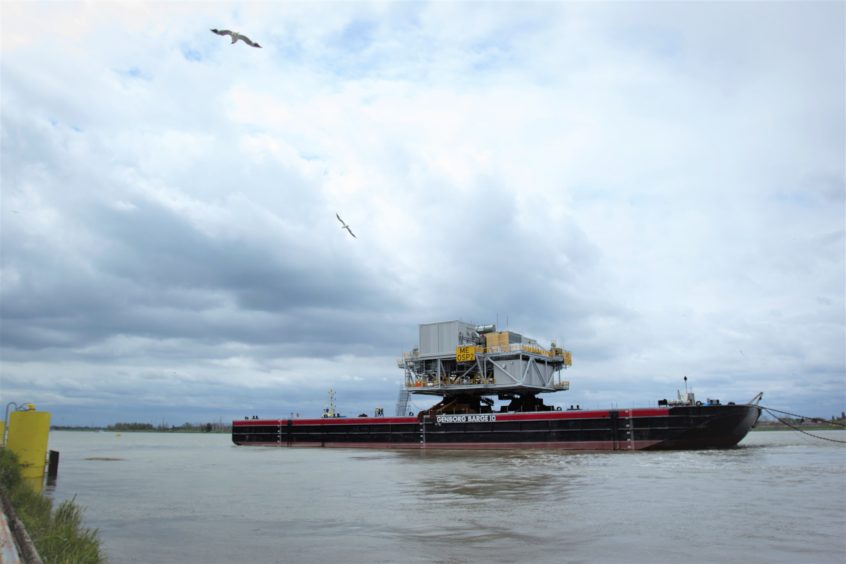 Siemens Energy has undertaken the sail-away of the first offshore transformer module (OTM) that will be used to transfer power from a giant Moray Firth wind project.
The first of thee OTMs to be built for the 100-turbine Moray East Offshore Wind Farm, it was launched on Wednesday on the Genborg Barge 210 to be installed at the development.
The remaining two OTMs will sail out in the following months when commissioning will take place.
Granted consent in 2014, the 950 megawatt (MW) project is 33.3% owned by EDP Renewables, Mistubishi subsidiary DGE holds 33.4%, French firm Engie holds 23.3% and the remaining 10% stake is owned by China Three Gorges.
Siemens Energy said it will also install a 20 miles underground export cable to the onshore substation at New Deer in Aberdeenshire for the power generated.
Marcel Sunier, project director for the Moray East Offshore Wind Farm, said: "It's a massive project, very complex and very existing that is a step-change in renewable power generation.
"The ideal number of OTMs was three – which I believe is a world first – and the reason we selected Siemens was due to them being a well-known supplier in the UK market.
"We could see a lot opportunites that Siemens could create for the local community and the regional suppliers.
"They will actually provide our whole transmission infrastructure."
The first turbine jackets for Moray East arrived at Global Energy's Port of Nigg in May.
The initial jackets arrived from United Arab Emirates manufacturing firm Lamprell who are contracted to supply 45 structures.
Belgian firm Smulders have also started to ship its order of 55 jackets.
Moray East Offshore Wind Farm is scheduled to be operational in 2022.
Recommended for you

BP advertises collaboration openings on Scottish offshore wind farm