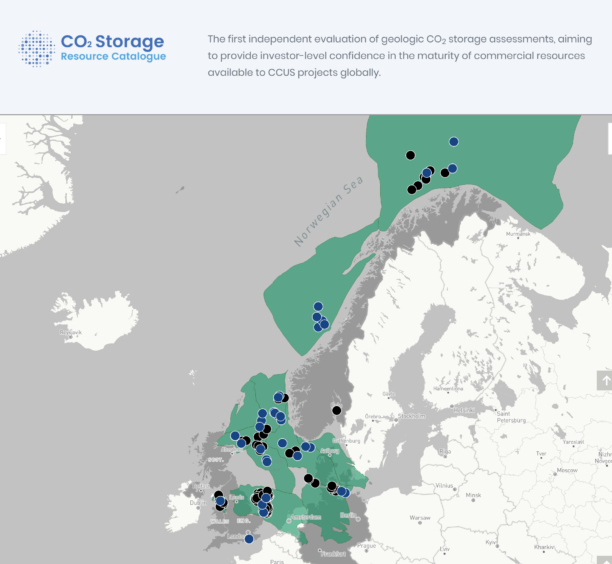 An Aberdeenshire firm has partnered with CEOs of some of the largest oil and gas companies on a "world first" catalogue of carbon capture and storage (CCS) resources.
Pale Blue Dot Energy has launched the catalogue in partnership with the Oil and Gas Climate Initiative (OGCI), a consortium led  by chief executives of a dozen majors, including Shell, BP and Total.
The catalogue is "the first" independent worldwide evaluation of geologic CCS storage resource assessments, OGCI said, also done in partnership with the Global CCS Institute.
Pale Blue Dot runs the Acorn CCS demonstrator project at the St Fergus Gas Terminal near Peterhead.
The consultancy assessed all published data using the Society for Petroleum Engineers's (SPE) Storage Resource Management System, ensuring every site met technically-based evaluation standards.
Information on 525 potential storage sites in the catalogue comes from the Global CO2 Storage Resource Assessment 2019, the first of a six year programme across 13 countries.
Alan James, managing director at Pale Blue Dot Energy said, "Through our work developing CO2 transport and storage solutions we understand the value of having consistent, technically based evaluation standards for the classification of global CO2 storage resources.
"This Catalogue is an important starting point. We hope it will help support further CO2 storage characterisation and development activities around the world."
The Catalogue will be updated annually, growing as more countries evolove their storage resources.
Chris Consoli, senior consultant for storage with the Global CCS Institute, added: "While the scale of these estimates is encouraging, ongoing CO2 storage characterization and development is critical for the large-scale deployment of CCUS.
"In countries with supportive policy and legal and regulatory frameworks – such as in Canada, Norway, the UK and the US – storage resources are significantly more mature, making them more likely to be the countries where the next wave of CCS projects are announced."
It comes after Equinor earlier this week unveiled plans to create one of the world's first "at scale" hydrogen with CCS plants in the UK near Hull.
Recommended for you

Acorn developer Storegga to explore CCS opportunities in Norway