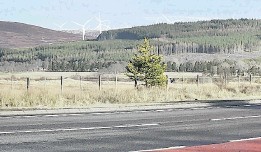 A row has broken out after Highland councillors decided not to challenge the Scottish Government's consent for a controversial windfarm south of Inverness.
Local authority officials had been criticised for a delay in considering the planning application for 20 turbines on the Moy estate 10 miles down the A9.
Hertfordshire-based Carbon Free appealed directly to the government because the council missed the deadline for making a decision on the scheme.
Members of the council's south planning committee have now decided not to challenge the government's approval.
Inverness South Independent councillor and committee member Jim Crawford, a critic of onshore windfarms, was left angry that colleagues did not hold a vote on the legal advice which recommended acceptance of the government's approval.
He said last night: "A major application can be overturned by the government reporter because we don't have the necessary finances to contest a developer's appeal.
"Other developers will appeal now, because they know the Moy applicant got his way."
Inverness Ness-side Liberal Democrat councillor David Henderson was concerned that "mistakes were made" in not processing the application sooner. He said: "Officials have got to take a share of the blame for that, although I will say in their defence that we stretched them to the limit. Staffing numbers are under acute pressure in order to save money.
"There's going to come a tipping point quite soon where it will be worth taking a case like this all the way. But I don't think this was the one."
Local objector Pat Wells, of the Strathdearn Against Windfarm Developments protest group, had written to Energy, Enterprise and Tourism Minister Fergus Ewing to register a "protest in the strongest terms at the undemocratic process followed" in determination of the planning application. She described the reporter's verdict as "an autocratic political decision made in haste, behind closed doors" which had "caused very bad feeling against the SNP both locally and across Scotland".
Carbon Free director Dominic Farrugia said: "Over the last two years, we have worked hard to ensure that the design and scale of this windfarm is appropriate to the location and the environment and that issues raised by the local communities during our extensive consultation were addressed."
Building work is expected to begin next year.
Recommended for you

New calls for inquiry into planned Skye windfarms and power line