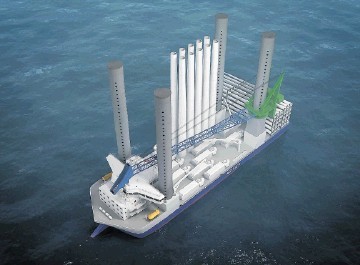 A further windfarm construction ship has been ordered by Danish contractor at a cost of around $155million with delivery set for 2014.
This latest order is essentially a repeat of one placed in 2009 with delivery still on track for Q3 this year Both will feature longer jack-up legs than current vessels to enable them to work at most deep water sites planned for the future in north European waters, including Round Three developments in the UK sector. Designed operating depth will be to 45m.
The main crane will, however, be more powerful. It too will be located to maximise available deck space and to allow greater flexibility during lifting operations, both during loading and installation.
Key statistics:
o Length: 132m
o Breadth: 39m
o Draft: 5.8m
o Speed: 12 knots
o Crane capacity: 900 tonnes
o Loading area: 3,200sq.m.
o Loading capacity: 5,000 tonnes
o Capable of carrying eight to ten offshore wind turbines (Towers, nacelles and blades)
o Able to carry up 60 people (crew and installation personnel)
A2SEA is now owned 51% by DONG Energy of Denmark and 49% by Siemens Wind Power of Germany. The ship will be built by COSCO Shipyard Group of China. When completed, the new sisters will bring the number of installation ships in the company's fleet to six.
Staying with DONG, the company has formed a joint venture with Centrica to co-develop offshore wind farms in the Round 3 Irish Sea zone, which has a potential capacity of 4.2GW (gigawatts).
The Danish company will pay Centrica up to £40million in cash for a 50% interest in the venture. DONG will also pay Centrica £15million at closing of the transaction, with the balance payable in later years. However, this is contingent upon consent being gained for a project in the Irish Sea Zone and DONG Energy reaching a final investment decision for a project, again in the zone.
The duo already have an established relationship and together they have around 1GW of offshore wind capacity installed or under construction in the UK. Moreover, they hold joint interests in the Barrow and Lincolnshire offshore wind farms.
The two companies will work together to develop different projects in the Irish Sea zone on a 50/50 basis, with construction management of the projects alternating between the parties.
For the first project under Centrica's management, a final investment decision is expected in 2016.
Recommended for you

SSE, Equinor reach financial close on Dogger Bank C