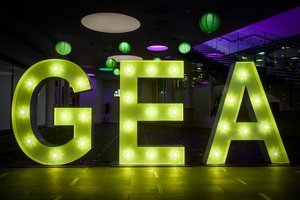 A major Scottish renewable energy awards is open for nominations after it confirmed plans to hold a physical ceremony later this year.
The Scottish Green Energy Awards, sponsored by EDF Renewables, will take place with social-distancing measures in place.
A live-stream of the event, which is celebrating its 17th year, will also be available for those that aren't able to attend.
Organisers have taken a number of measures to ensure government guidelines can be adhered to, including splitting the ceremony across two rooms and limiting the number of people allowed at each table.
A spokesperson for Scottish Renewables said: "We are working closely with the venue and our suppliers to comply with the most up-to-date government regulations and will continue to review these guidelines to ensure the health and safety of our guests is at the heart of our planning and decision-making.
"We are committed to honouring the people, organisations and communities going above and beyond to shape renewable energy's future, so join us this November to raise a glass to those making our industry the success story it is."
The ceremony is due to take place at the Edinburgh International Conference Centre on Thursday, 26 November.
A total of 12 awards are up for grabs and nominations are being taken for the following:
BEST COMMUNITY PROJECT AWARD
BEST ENGAGEMENT AWARD – Sponsored by SmartestEnergy
BEST INNOVATION AWARD – Sponsored by Red Rock Power Limited
CARBON REDUCTION AWARD
CHAMPION OF RENEWABLES AWARD 
CONTRIBUTION TO SKILLS AWARD
OUTSTANDING CONTRIBUTION AWARD – Sponsored by Highlands and Islands Enterprise
OUTSTANDING PROJECT AWARD – Sponsored by RWE Renewables
OUTSTANDING SERVICE AWARD
POSITIVE IMPROVEMENT AWARD – Sponsored by Natural Power
SUSTAINABLE DEVELOPMENT AWARD 
The deadline for nominations is 5pm on Friday, 4 September.
Winners of the 2020 Young Professionals Green Energy Award are automatically nominated for the YOUNG & INSPIRING AWARD – Sponsored by WSP
Recommended for you

Offshore Achievement Awards honours industry stalwart Melfort Campbell