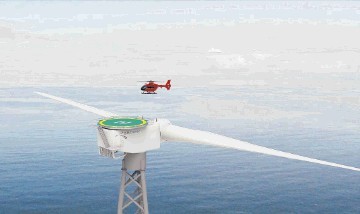 Wind turbines which are expected to cost much less to maintain than traditional designs will be tested in Scottish waters.
Dutch firm 2-B Energy said yesterday its twin-blade turbines could reduce costs by up to 45%, compared with existing three-bladed machines.
The company added its design used less components than conventional turbines, leading to cheaper operating and maintenance costs.
It has gone into partnership with economic-development agency Scottish Enterprise (SE) to commercialise the technology.
The turbines, which have two 230-foot blades, will be developed at SE's Fife Energy Park, at Methil, where 2-B will build two offshore units.
Mikael Jakobsson, the company's chief operating officer, did not rule out working at the European Offshore Wind Deployment Centre (EOWDC) in Aberdeen Bay in future, but said 2-B was currently focused on demonstrating its technology in Fife.
He added it may be difficult for 2-B to work at the £200million EOWDC development, because the consortium behind it was expected to build traditional three-bladed turbines.
Vattenfall, Technip and Aberdeen Renewable Energy Group want to build 11 turbines, with blades measuring up to 246ft, off the north-east coast.
Mr Jakobsson said he believed EOWDC could accommodate technology like 2-B's twin-bladed device in future.
EOWDC spokesman David Rodger said the firms behind the project were currently considering which turbines to instal and that it was too early to say which models would be involved.
After receiving support from the Aberdeen-based Scottish European Green Energy Centre (Segec), 2-B has applied for European funding and wants to develop offshore test facilities in the next two years.
SEGEC chief executive Chris Bronsdon said: "The technology approach maximises the potential for cost reduction from the outset, while minimising technology risk through using existing, proven components that have already been operating and financed in the market for several years.
"The project will demonstrate the significant improvements in operations and maintenance that can be achieved and will confirm the position of the technology within the global offshore wind supply base."