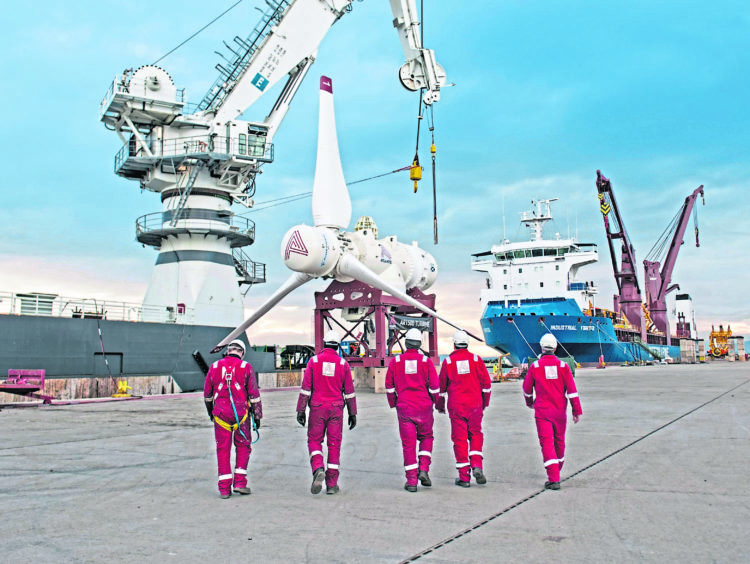 Shares in Simec Atlantis Energy, which operates the MeyGen tidal array in the Pentland Firth, plummeted today.
The Edinburgh-headquartered renewable energy firm closed on 12.90p a share, down from 18.25p the previous day, a drop of almost 30%.
It comes after the company announced it planned to raise as much as £6 million by issuing around 50 million new shares at a cost of 12p.
The move will dilute the value of existing shareholders shares as new investors enter the business.
The net proceeds will be used to fund the group's working capital and for investment in new fuel processing facilities via a new 50/50 joint venture with Dutch firm N+P group.
Simec Atlantis said the initiative will provide the company with "security of fuel supply" for the Uskmouth Power Station in Wales and provide exposure to future revenue opportunities from gate fees and sale of fuel to other projects.
The firm also published its financial results for 2019 today showing pre-tax losses for the year of £36.2 million pounds, compared to a deficit of £24.2m in 2018.
That's despite the MeyGen subsea hub, currently the world's largest tidal stream power project, generating revenues of £4.1m.
The loss has mainly been put down to a £16.1m non-cash disposal of seabed options for five development sites.
It also "reflects the full year results of significant changes" made to the group during 2018, including MeyGen becoming operational in April 2018.
Simec Atlantis posted revenue of £4.8m for 2019, up from £2.2m the previous year.
Chief executive Timothy Cornelius: "The continued focus on the transition to a carbon neutral economy has received fresh impetus as a result of the impact of COVID-19 and countries around the world are looking at the opportunities presented by a move to a carbon free economy as a way to grow our economies, create jobs and generate sustainable prosperity.
"Atlantis is a true pioneer in the field of renewable energy and our flagship projects have the potential to have a profound impact on the way we approach renewable and sustainable power generation globally.
"MeyGen, the flagship of our marine energy division, delivered the longest ever period of uninterrupted generation from a multi-megawatt tidal turbine installation during 2019.
"The array, which is located in Scotland, continues to break world records and has now exported over 30 GWh of electricity to the grid. To put that in context, that is enough electricity to fully charge more than 750,000 electric vehicles.
Recommended for you

Tidal Turbines: A rare Scottish success story