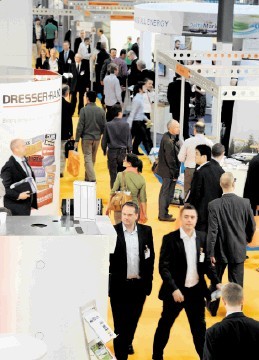 An annual renewable-energy conference is expected to be bigger and better when it returns to Aberdeen next month.
The 12th All-Energy show could break records set last year when it opens at the Aberdeen Exhibition and Conference Centre on Wednesday, May 23.
The two-day event will attract companies from the north, north-east and throughout the world and it is hoped visitor numbers will be higher than the 8,000 recorded in 2011.
Speakers will include First Minister Alex Salmond and UK Energy Minister Charles Hendry.
Event manager Jamie Thompson said: "Visitor registrations are coming in thick and fast, and looking down the list of people registered is like looking at a Who's Who of renewables.
"It is no wonder that the show has been dubbed the AGM of the renewables world.
"Our exhibitor list grows on a daily basis, with its growth keeping in line with our online visitor registrations.
"We are looking forward to a highly successful show in late May."
Among this year's exhibitors is Energy North, the representative body for the energy industry in the Highlands and islands.
Chief executive Ian Couper said that because the organisation had 140 members, it was vitally important it attended All-Energy.
He added: "The vast majority of the renewable-energy market will be there, providing an ideal opportunity for networking with both new and potential members.
"Aberdeen has played a key role in the emergence and exploitation of our oil and gas industry, and has a big part to play in the renewable-energy revolution now upon us; not least because of the synergies which exist between those two energy sectors."
Aberdeen Renewable Energy Group (Areg) said it was organising the Aberdeen City and Shire pavilion at the show, which will feature more than 55 north-east firms.
Areg chief operating officer Morag McCorkindale said: "The exceptional success of All-Energy is a really strong indication of how fast the renewable energy industry is growing.
"Every year, All-Energy attracts thousands of visitors from all over the world and, as such, it is contributing substantially to helping to sustain the local economy, business tourism trade and workforce, not to mention the revenue generated in follow-up business generated for the local energy industry."
Recommended for you

Exclusive: Skills passport to 'transform' North Sea oil and gas workforce