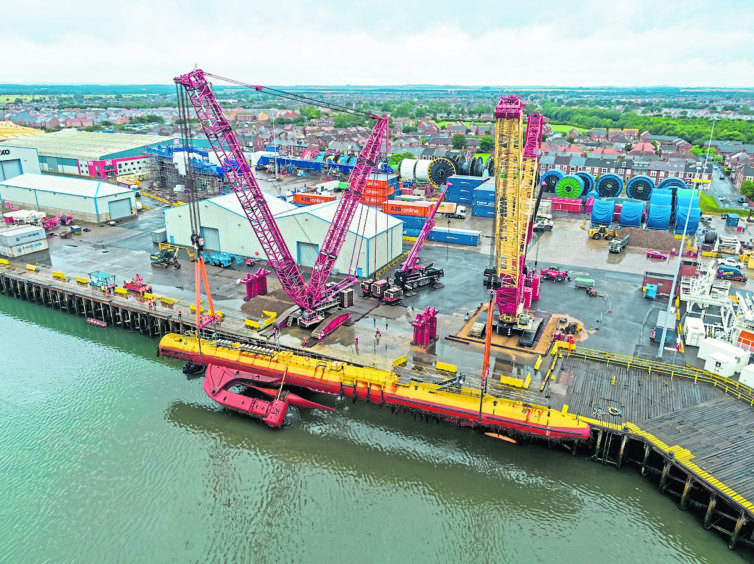 Renewables firm Obital Marine has called time on its "breakthrough" SR2000 floating tidal turbine.
The 516-tonne prototype – manufactured in Belfast in 2016, and then installed at the European Marine Energy Centre's grid-connected test site in Orkney – has been decommissioned at Port of Blyth after producing more than 3,250 megawatt-hours of electricity.
The unit was towed from Orkney to the Northumberland facility by Leask Marine using the C-Odyssey vessel.
Speaking about the end of the SR2000 programme Andrew Scott, Orbital CEO, said: "The SR2000 was an industry break-through and its success is a testimony to the team who engineered, built and operated it.
"Not only did it validate the conceptual benefits of our floating tidal solution, but it re-set the performance bar for the sector. A truly outstanding platform for us to be building on with our new O2 turbine.
"I would also like to thank Thompsons of Prudhoe and Port of Blyth for planning and executing the decommissioning of the SR2000 with precision and professionalism."
Alan Todd, Port Director of Port of Blyth, said: "Completing the largest project lift the Port has ever planned and executed highlights the skill and competence of the Port of Blyth's engineering and operations teams.
"Although we have a wealth of experience in relation to heavy project lifts, the tidal turbine brought its own challenges and required exceptional planning and a well-coordinated operation.
"The project also highlights both the strength and potential of our new decommissioning partnership with Thompsons of Prudhoe."