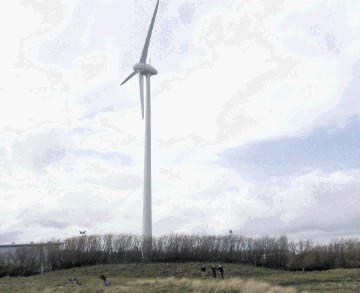 The director of golf at a historic Aberdeen club has hit out after a huge wind turbine was erected 40ft away from one of his course's signature holes.
Members of Royal Aberdeen – the sixth oldest club in the world – have been left stunned after a 218ft turbine appeared near the 14th.
They claim they were not consulted about the project and fear it could now affect Royal Aberdeen's status as one of the top 100 courses in the world.
The club is currently fighting a plan for an 11-turbine windfarm in Aberdeen Bay – said the turbine was going to have a huge effect on its reputation.
The turbine has been built by engineering firm Rubberatkins to power its headquarters at Aberdeen Science and Energy Park, on the course's western border.
The company was granted planning permission last year and it completed construction on Monday.
But Ronnie MacAskill, the director of golf at Royal Aberdeen, said he became aware of the proposal only after planning permission had been granted.
The club was not notified of the proposal, because the council had no record of its ownership of the land. Instead, the planning application was advertised in a free newspaper, which went unnoticed by the club's committee.
Mr MacAskill said: "The turbine towers above the 14th tee, causing considerable disturbance to golfers when teeing off on one of the strongest holes on this ancient, classic, natural links, consistently rated in the top 100 courses in the world.
"Easter brought out the first visitors of 2012. Their comments were – a great golf course in magnificent condition, but how did that turbine get there?
"It is naive to think that the unsympathetic placement of wind turbines, onshore and offshore, will not impact considerably on organisations such as Royal Aberdeen Golf Club, which has quietly contributed much to the local community since 1780."
The club, like American entrepreneur Donald Trump, is also fighting a plan for an offshore windfarm in Aberdeen Bay.
Mr Trump told the Press and Journal he was horrified by the turbine development.
"Royal Aberdeen is a wonderful course – one of the jewels of world golf – and it has been destroyed overnight. I don't know what is going on in Scotland. This is terrible. The whole course is destroyed now. It's finished.
"If this happened next to my course, I'd sue Scotland in a second. I can't believe what is going on."
An Aberdeen City Council spokeswoman said: "The application was considered by elected members in an open and transparent way, taking account of appropriate material planning considerations."
Rubberatkins managing director Nick Atkins said he believed many members of the club were fully aware of the planning application. He also said an energy park was an appropriate location for a turbine.
Recommended for you

VIDEO: Daredevil Danny MacAskill cycles along wind turbine blade ahead of COP26