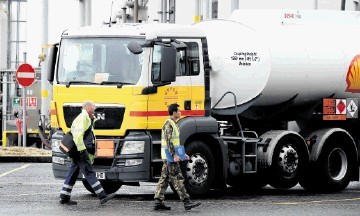 Fresh talks aimed at averting strikes by fuel tanker drivers are to be held next week – raising hopes that industrial action can be averted.
The conciliation service Acas announced that leaders of the Unite union and officials from six distribution companies will meet on Monday.
Unite has also been given an extension to Tuesday before it has to make a decision about calling industrial action.
On Wednesday, after six days of talks, the tanker drivers' representatives overwhelmingly turned down a proposed deal, but there was progress made on some of the issues, including pensions, health and safety and training.
The new talks will involve Hoyer – one of the biggest distribution firms – even though Unite is to re-ballot its members at the firm after it discovered that a number of them did not receive their ballot papers last month.
Acas chief conciliator Peter Harwood said: "The employers and Unite have agreed to an extension of the validity of the ballot period for a further four days, until Tuesday, to enable these talks to take place."
Unite represents around 530 drivers at Hoyer, which delivers fuel to Esso and Shell garages.
The Hoyer workers, who voted 59.7% in favour of strikes in a turnout of almost 80% in the previous ballot, will vote again, from April 26 to May 8.
Unite's assistant general secretary Diana Holland said: "We remain committed to reaching a negotiated settlement with Hoyer and the other employers that brings stability and security to the supply of a vital commodity.
"It has come to our attention that a number of people did not receive ballot papers. We will be seeking a fresh mandate from our members in Hoyer who, like all tanker drivers, face a race to the bottom in an increasingly fragmented industry."
The union has appealed to motorists not to panic-buy petrol, pointing out that no strikes had been set.
After the row flared last month the UK Government advised motorists to top up their cars with petrol and store fuel in jerry cans, leading to panic buying and shortages of supplies. There were chaotic scenes at garages as long queues built up, leading to criticism of the government for the way it had handled the dispute.