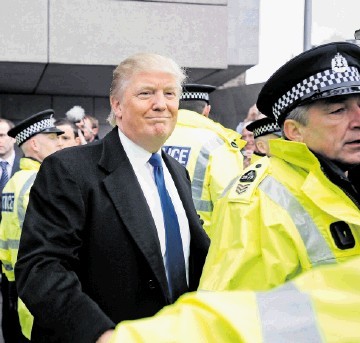 First Minister Alex Salmond has dismissed claims he gave Donald Trump assurances that a windfarm would not be built near his golf resort as "total nonsense and completely untrue".
The SNP leader spoke out after the flamboyant businessman told MSPs yesterday he was "lured" into building the £750million development in Aberdeenshire by promises the European Offshore Wind Deployment Centre in Aberdeen Bay would not go ahead.
Mr Trump said he felt "betrayed" because he claimed he was given similar assurances by former Labour first minister Jack McConnell.
The tycoon said he had dinner with Mr Salmond in New York in October 2007 and was "strongly led to believe" there would be no windfarm. He told MSPs he would have abandoned the project at the Menie Estate, near Balmedie, if he had known what was to come. He said he would have invested his money in Ireland instead.
Giving evidence to Holyrood's economy, energy and tourism committee, Mr Trump said Mr McConnell, who was first minister until May 2007, told him the test centre would not be built because of Ministry of Defence interests in the area and shipping lanes near Aberdeen harbour.
He said Mr Salmond, who became first minister in May 2007, had also "poo-pooed" the windfarm development. Mr Trump said: "What they did is they lured me in. I spent this money and now I might regret it."
Mr Salmond dismissed the businessman's claims as "stuff and nonsense".
His spokesman said: "Absolutely no assurances have been given at any time by the first minister or anyone in this administration to Mr Trump or his organisation, and any claims to the contrary are wrong.
"The suggestion that any assurances were given at a dinner in New York in October 2007, which was attended by other businesspeople and potential inward investors in Scotland, is merely the latest in a long line of bizarre twists and claims and is completely untrue." Mr McConnell, now a Labour peer with the title Lord Glenscorrodale, has also rejected Mr Trump's claims.
In a highly-charged evidence session, the US businessman claimed Scotland would go "broke" if it continued to pursue the offshore windfarm agenda.
Asked where his evidence was, he replied "I am the evidence".
The businessman said offshore windfarms relied on massive subsidies and he said Scotland's renewable energy targets were "absolutely ridiculous, random and phoney".
Mr Trump rejected claims he was using opposition to the Aberdeen Bay development to pull the plug on his golf resort. He said the golf course itself would open in July.