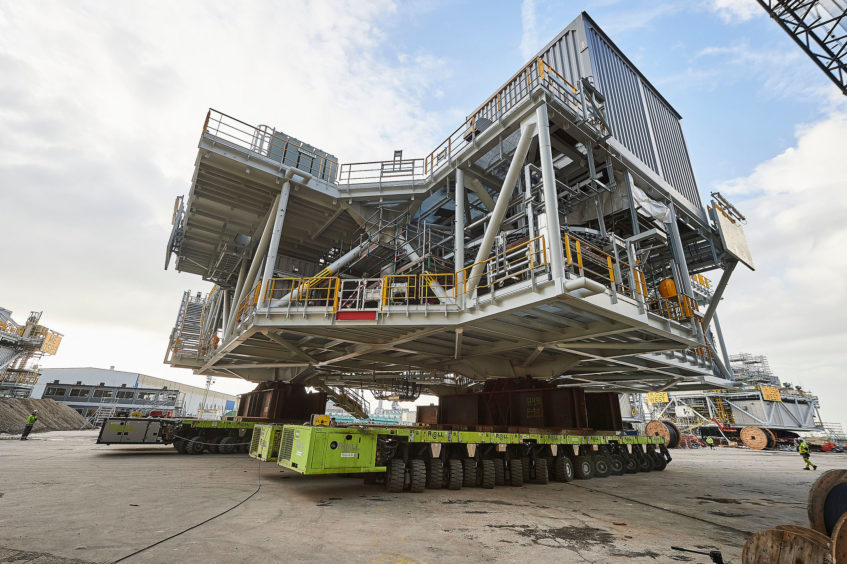 The final platform for the Moray East wind farm will set sail across the North Sea this weekend.
The 1,100-tonne Offshore Transformer Module (OTM) is the last of three to be fabricated and fitted out by Smulders's yard at Hoboken, Belgium.
Developer of the OTMs, Siemens, said, "in a world's first", the three substations will be connected to deliver 950MW of clean energy.
Each "platform" will transmit the power generated by the 100-turbine Moray East development, enough for 950,000 UK homes.
Mark Pilling, Head of Transmission Solutions, Siemens Energy UK&I said: "This is a significant milestone in the project to bring low cost, low carbon power to homes and businesses across Scotland.
"Using a modular approach means we have been able to optimise the platforms to the specific needs of the customer and the area being developed, ultimately saving time and cost for the developer.
"Achieving this milestone is a testament to the hard work of the team who have delivered these components with zero snags to the customer, which is an incredible achievement."
The OTMs will sit on three-legged jackets – the first of which was installed earlier this month.
The development lies around 14miles from the coast in the Moray Firth, owned by Moray East Wind Farm Limited – a joint venture between Diamond Green Limited (33.4%), EDPR (33.3 %), ENGIE (23.3%) and CTG (10%).
Marcel Sunier, Project Director for Moray Offshore Windfarm (East) Ltd said: "This latest major milestone in the delivery of Moray East is a reminder that the step-change in the transition to low-cost, low-carbon power is enabled by scale and by world-leading innovations.
"Those innovations include the use of three OTMs, whose modular construction itself marked a major advancement in offshore transmission technology."
Recommended for you

Wind and power seek to clean up act on dangerous greenhouse gas SF6