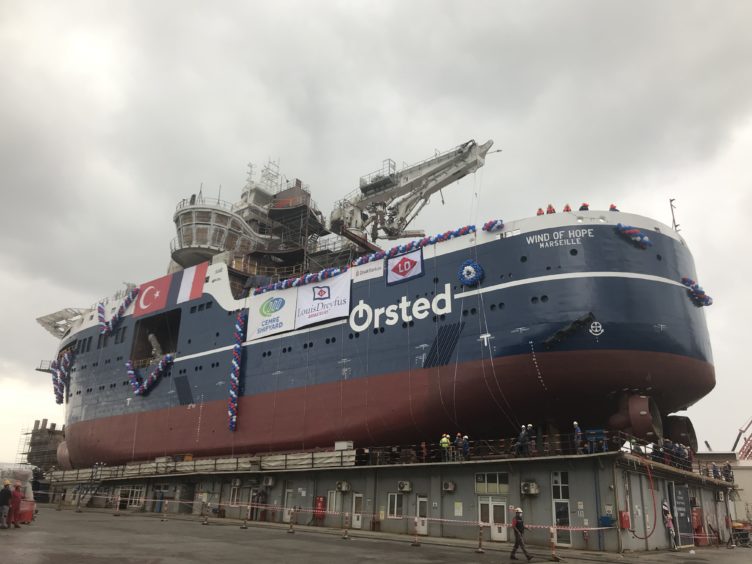 Danish offshore wind developer Ørsted has launched its new service operations vessel.
The Wind of Hope is a state-of-the-art ship which has been built at Cemre Shipyard in Turkey for vessel owners Louis Dreyfus Armateurs.
It is expected to arrive at Ørsted's east coast operations and maintenance facility at the UK port of Grimsby next year.
The vessel, which has a total capacity of 90, will act as an accommodation base for 64 technicians who will service and maintain the 165-turbine Hornsea Two offshore wind farm around 55 miles off the coast of Yorkshire.
It has been fitted with a number of modifications intended to ensure that shift patterns offshore are as comfortable as possible for the crew.
A motion compensated gangway allows technicians to walk to work from the ship directly onto the transition piece of the turbine they are required to access, while the onboard helideck enables efficient crew and cargo transfers to take place.
Morten Holm, head of operations for Hornsea Two at Ørsted, said: "We're extremely pleased to be able to reach this exciting milestone for the wind farm. Technicians will spend two weeks at a time onboard this vessel as they live, eat and sleep onboard whilst working offshore. The Wind of Hope has been designed with comfort and practicality in mind and we look forward to welcoming her to her new home in Grimsby."
Kamil Beffa, deputy chief executive of Louis Dreyfus Armateurs, added: "We are delighted to reach a turning point in the construction of this second SOV dedicated to Ørsted's Hornsea Two windfarm. It means a lot to our marine industrial solutions strategy as a partner of the Danish wind energy leader. It is also an exciting commitment in favor of clean and renewable energy and our continued focus on safety and environmental footprint with innovative ship designs."
Recommended for you

Ørsted's US fiasco highlights need for new offshore wind business model